Gluten-free breakfast ideas or why toasts are overrated
Keep gluten out of your plate and still start the day right with these delicious gluten-free breakfast ideas.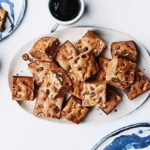 We may no longer know if breakfast is the most important meal of the day, but for most of us, it will forever remain the tastiest one. And while gluten-free bread, bagels and other morning carby staples are now quite accessible if you don't have the time or will to make it at home, they are not essential to start the day right. In fact, skipping bread altogether might make you save on expensive store-bought gluten-free bread and gain in flavour. Here is how.
Advertisements
Sweet Potato Toast
When we say toasts are overrated, we mean regular bread toast. Because its sweet potato alternative definitely isn't. Never heard of it? It is the simplest thing in the world and might very well change your life. Simply cut a thin piece and treat it like you would a slice of bread: toast it, garnish it… And probably repeat.
Advertisements
Apple and oat muffins
Muffins are a classic. They're easy to whip up, make the house smell amazing and are the perfect grab-and-go. And as long as you use a recipe that calls for gluten-free flour, you can enjoy every flavour you wish. But these apple and oat ones are a must.
Advertisements
Granola
You used to be a cereal and milk kind of person, then you found out you were celiac and thought you would never be the same? Fear not, as a gluten-free version that's just as good as the wheat heavy stuff of the one thing that's better than breakfast cereal—granola—is incredibly easy to find at the store or to make at home.
Advertisements
Chickpea pancakes with kale and fennel
This Bon Appetit Mag number makes for a perfect savoury brunch menu to get off the beaten track, cater to gluten-free guests and still please everyone around the table.
Vegan coconut tapioca pudding
We're not sure if this one is more of a dessert than a breakfast kind of meal—actually, we know it's technically a dessert—but we think it's the perfect sweet and creamy alternative for whenever you get tired of porridge.
Pancakes
While we are on the topic of eating dessert in the morning, here is a typical breakfast item we love to have for dinner. And if you thought you had to forget about pancakes after adopting a gluten-free diet, feel free to let out a tear of joy or two, because so many recipes—from the skinny kind to the fluffy ones- can be done with gluten-free flour.
 Sweet potato crust quiche
This sweet and savoury original recipe would make for a great leftover lunch, but we suggest you don't get your hopes up about leftovers whenever making this Healthyish recipe.
Banana bread
The universal way to save old bananas is very gluten-free adaptable, which makes us all want to forget a couple of them on the counter for a few days on purpose.
Celeriac and sauerkraut rosti with poached eggs and halloumi

This recipe by Eve Kalnik on Dales Ford doesn't only sound sexy. It tastes it too.
Breakfast blondie
As previously established, the line between breakfast and dessert can be quite fine. But these blondies were truly developed to be enjoyed in the morning. We promise they are healthy-ish.
Chocolate hemp smoothie
This one is a no brainer, but in case you had forgotten about those, here is a smoothie. Also, chocolate makes everything better.
Whoever said eating gluten-free was boring probably didn't try hard enough. In fact, they probably didn't try at all, because these gluten-free breakfast ideas as extremely simple and just as delicious. From sweet to savoury to a combination of the two, these recipes will make up for all the gluten-rich PB & Js in the world.
---
Cover Credit: @chelsealouisekyle | Instagram