Vegan choices in classic fast food restaurants you'll love
Stopping for a quick bite to eat on the road when you're vegan can seem complicated. Burgers, pizza, burritos, these are not the most vegan-friendly foods. However, fast food chains have tweaked their menu over the years to offer vegetarians and vegans delicious and most importantly meat-free options. Here are some vegan choices in classic fast food joints vegans can enjoy!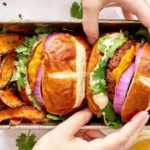 Road trips are incredibly fun and allow you to see parts of a country you might have never come across otherwise. One of the best parts of these long drives is stopping for food on the road (at least, we think so!). While on a road trip, calories don't count. You can eat junk food all vacation-long and not feel bad about it because hey, you're on holiday, and you deserve to treat yourself. Having said that, vegetarians and vegans are not as lucky as omnivorous eaters in that department. McDonald's, Burger King, Wendy's, Taco Bell, these are not the friendliest restaurants for non-meat eaters. Fortunately, more and more national and international fast food restaurants offer plant-based items on their menus to accommodate the veggies. Discover where to get vegan choices in classic fast food eateries so you don't have to bring a 30 lbs bag of nuts and seeds with you on every road trip. What a time to be alive!
Advertisements
A&W's Beyond Meat Breakfast Sandwich
Beyond Meat has partnered with numerous fast food chains to offer veggie and vegan clients something to munch on. A&W, a Canadian hamburger chain, has a vegan-friendly breakfast sandwich made with a Beyond Meat "sausage" patty. Of course, it does come with an egg and cheese but if you ask to remove these two items, you can actually enjoy a vegan breakfast on the go. A&W also has a Beyond Meat burger when lunchtime comes around…
Advertisements
Burger King's French Toast Sticks
Head over to Burger King for some crispy French toast sticks, a delicious addition to your morning coffee. This fast food chain's hash browns and oatmeal (with water instead of milk) are also vegan-friendly items. Who knew Burger King would allow you to enjoy a yummy and vegan breakfast on the road?
Advertisements
Chipotle's Burrito and Burrito Bowl
Ever heard of sofritas? This meat-free option is the perfect replacement for barbacoa, carnitas, steak or chicken in burrito bowls, burritos and tacos at Chipotle. Keep it vegan by omitting from cheese and sour cream. This Mexican fast food chain has delicious menu items that keep you full all day long and are filled with yummy and nutritious ingredients.
Advertisements
White Castle's Veggie Sliders
Popularized by the Harold & Kumar Go To White Castle movie, this fast-food emporium might not be as common as McDonald's or KFC but if you do stumble upon one during your long drives, you'll at least know you can enjoy the Veggie Slider, filled with zucchini, carrots, broccoli, guilt-free!
Subway's Veggie Delite
Subway's Veggie Delite might not be the sexiest of sandwiches but at least vegans know it exists. Filled with your choice of veggies, choose between the Italian, Hearty Italian or Sourdough bread to make it 100% vegan-approved.
Carl's Jr.'s Beyond Famous Star Cheeseburger
Carl's Jr. also decided to go the veggie route with the Beyond Meat patty for their Beyond Famous Star cheeseburger. Again, ask to hold the cheese and mayonnaise but apart from that, you can fully enjoy a vegan burger anywhere in the south of the United States.
Papa John's Vegan Pizza
Papa John's sauce and dough are vegan, so you just have to order a veggie pizza with no cheese to make it 100% vegan. However, if you ever travel to the UK, you can also enjoy three vegan pizzas that are topped with dairy-free cheese! The plant-based "sheese" is from the brand Bute Island. We suspect you'll be extremely happy to find yourself face to face with a pizza again. Hopefully, the "sheese" revolution will find itself in North America soon!
TGI Fridays' Beyond Meat Burger
TGI Fridays also partnered with Beyond Meat for their veggie cheeseburger. The Beyond Meat patty is plant-based, kosher and is gluten and soy-free. For the vegan version, ask for no cheese on your burger and make sure the bun has no butter on it.
Baskin Robbins' Horchata Ice Cream
After devouring a delicious vegan burger or burrito, it's normal to want to cleanse your palate and enjoy a nice cold and refreshing dessert. Baskin Robbins, the fast food ice cream eaterie we all know and love, offers a plant-based frozen dessert that is inspired by the famous Spanish drink Horchata. Creamier than most sorbets, it comes in a variety of flavours like coconut and cinnamon. They also have many plant-based ice cream flavours like Mango Fruit Blast Bar, Tropical Ice and Strawberry Sorbet.
It is now easier than ever to enjoy vegan choices in classic fast food restaurants. You can explore the countryside and coasts without lugging around protein powders, seeds, nuts and dried fruit with you in the car. Enjoy your fair share of junk food without ever compromising on your values and beliefs. Cheers to that!
---
Cover photo: @beyondmeat | Instagram