Vegan muffin recipes for every day of the week
Just because you're vegan, it doesn't mean you can't munch on delicious muffins from morning to night. From decadent double chocolate to nourishing protein chickpea muffins, these vegan muffin recipes will make you and your loved ones happy from Monday to Sunday!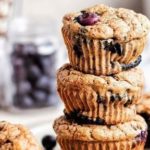 Vegans don't eat red meat and poultry but they also don't eat eggs, cheese, milk, honey and other animal-derived products, which means many "normal" foods non-vegans eat are off-limits. Instead of saying R.I.P. to baked goods, dips, or any other non-plant based foods, vegans can eat these types of foods just by switching a few ingredients. If you're vegan and love to eat baked goods, especially muffins, you'll love these vegan muffin recipes. Whether you prefer them sweet, tangy, salty or nutty, these recipes make excellent breakfast, snack and dessert options.
Advertisements
Healthy vegan muffin recipes
Spelt
Spelt is an ancient grain that comes from southern Europe. Its mild nutty flavour is delicious in many different dishes and is high in protein, fibre and rich in vitamin B2, manganese, phosphorus, niacin, thiamin and copper. These spelt vegan muffins also have nuts, which will help you feel full longer.
Protein chickpea muffin
Vegans always have to make sure they eat enough protein from plant-based foods since they don't eat red meat or poultry. These super protein chickpea muffins are vegan, gluten-free and are filled with delicious ingredients: bananas, dates, flax eggs, hemp seeds, quinoa flour and cacao nibs. Enjoy one of these muffins in the morning and spread some almond butter on it or enjoy one with a delicious hearty soup.
Advertisements
Fruit-filled recipes
Raspberry oat
Whether you buy them fresh or frozen, raspberries are a delicious addition to any muffin recipe. Healthy, easy to prepare and delicious, they are not only vegan but also gluten-free since they are made with gluten-free oats and chia seeds. Naturally sweetened with maple syrup, bring these to any brunch to satisfy vegans and non-vegans alike.
Strawberry
If you're lucky enough to live somewhere where you can pick fresh strawberries in the summer, you probably wonder what to do with all those berries you picked. Get creative and make yummy vegan strawberry muffins for you and your family.
Blueberry nut
Another classic, blueberry muffins are always a classic choice. This recipe also has nuts, which make these more consistent. Not only are these delicious but they are also made with whole grain, non-refined sugar and fresh blueberries (or frozen ones, you choose!).
Advertisements
Decadent recipes
Banana chocolate
A classic combo, banana chocolate muffins are perfect with those with a sweet tooth. Paleo and vegan, the only sweet ingredients in the recipe are the bananas and chocolate chips.
Double chocolate
If you are a real chocolate lover and you want a muffin that is both decadent and satisfying, try Food with Feeling's recipe. They are great for a weekday dessert since they aren't too rich or heavy but we won't judge you if you also eat them in the morning for breakfast!
Orange spice
Citrus and spices like clove, allspice, cinnamon and ginger go very well together. These are not the healthiest breakfast muffins but they are certainly delicious. Topped with a spicy orange glaze, fans of breakfast pastries will satisfy their craving for sweets.
Baking muffins is easy, fast and much healthier than buying the ones at the grocery store. Vegans can still enjoy these baked goods without having to compromise on their values. Bake these for your friends and family and we bet they'll ask you for the recipe (even the non-vegan ones!).
---
Cover photo: @kandy_with_a_fork | Instagram