The Best BBQ Tips to Cook The Most Delicious Burgers
1

Create Fire Quickly With a Hair Dryer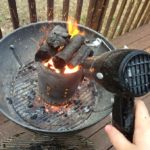 Advertisements
Sometimes getting the fire started is the hardest part of your BBQ. If you're dealing with a stubborn grill, a hair dryer allows you to get right to cooking, without wasting your time stoking the flames.
First, get a little flame going on your grill. If that's too difficult, at least make sure the coals are slightly hot. Then, bring your hair dryer outdoors and point it directly at your BBQ. The heat and air from the hair dryer boosts the oxidation process by blasting your flame with constant oxygen. In just a few minutes, your smoldering pile of coals will transform into a blazing fire perfect for outdoor cooking.
Advertisements
2

Get Rid Of The Burger Bulge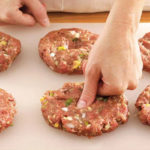 Advertisements
Before you toss your burgers on the grill, put a small thumbprint in the patty. No, it isn't a way to mark the burger as "yours." Instead, this simple little trick allows your burger to keep its shape while you grill.
By pressing your thumb into the center of the patty, you change the shape of the burger just slightly. That small indentation ensures that the burgers won't bulge in the center as they cook. Instead, they'll form perfectly around the sides, making sure that each patty aligns with the bun.
Advertisements
3

Wet Hands Keep The Burger Juicy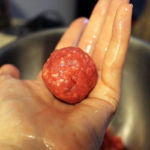 Advertisements
In addition to not overworking your meat for obvious reasons, you also want to keep as much moisture in your ground beef as possible. That way, the patties will retain the juices as they cook, instead of drying out.
Before you start forming your patties, wet your hands with cold water. Your slightly wet hands will put some moisture back into the meat while you work it, creating juicy burgers. Plus, wet hands ensure that none of the meat sticks to your fingers while you craft the perfect patty.
Advertisements
4

Use An Onion to Clean Your Grill Safely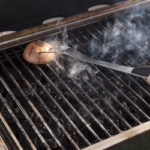 Advertisements
A clean grill makes all the difference in the quality of your food. If your grill is dirty when you start your BBQ, your various meats and vegetables will stick to the grate, making it difficult to serve up pristine meals. When cleaning your grill, a wire brush is most people's first choice. However, these brushes leave behind dangerous metal particles that could end up in your food.
Instead of using a wire brush, clean your grill with an onion instead. Simply cut an onion in half and place it face down on the warm grill. Then stab the onion with a fork or prongs and rub it along the grate. It will get rid of that yucky leftover debris without leaving potentially disastrous metal particles behind.
Advertisements
5

Turn a Disposable Pan Into a Jalapeño-Friendly Grill Topper
Advertisements
Disposable aluminum foil pans aren't just for your oven. In fact, these nifty tools have a variety of uses that can take your grilling skills to the next level. To make a quick, easy-to-use grill topper, simply turn an aluminum pan upside down and cut X's in the bottom of the foil.
If you want to get really fancy with this trick, take your grill topper to the next level by pushing the bottom third of jalapeño peppers through the holes in the disposable pan. The pan will help the peppers to stay upright, allowing you to place them on the indirect side of the grill for perfectly delicious cooked peppers.
Advertisements
6

Cold Patties Won't Overcook>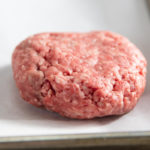 Advertisements
As you're forming your burger patties using ground beef, you want to keep the meat as cold as possible in any case, but especially if you like a little of pink at the center of your burger.
When the patty is cold, it takes a little longer to cook, ensuring that some of the meat retains that delicious pink look. The crust will form properly on the outside of the burger, but the inside will stay juicy and just a little rare. Cold is more important than you think when forming the perfect burger, so try to keep the patties in the fridge until the last possible moment.
Advertisements
7

Peanut Butter Will Add Extra Moisture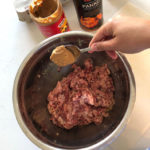 Advertisements
Okay, we know that many people will find this trick strange, even disgusting, but seriously, you should try it before you judge! An amazing, but really effective way to add moisture to your burgers is to add peanut butter to your meat before forming your patties.
A simple spoonful of peanut butter in your meat and you'll see how juicy your patties will be! You can afford to put more or less peanut butter depending on your taste, but obviously, too much could ruin your burger a bit.
Advertisements
8

Say Goodbye To Ordinary Burgers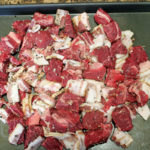 Advertisements
Normal ground beef will always make a delicious burger. After all, that's usually what they're made of! But switching up the meat and trying something different might lead to an even more flavorful patty.
Don't be afraid to experiment with your ground beef. A special blend like 50% chuck and 50% sirloin results in an even more flavorful burger. You can even try something with bacon trimmings or grab some kind of exotic meat if you really want to step out of your comfort zone. Normal burgers are fine, but being a little adventurous with your meat can change your barbecue for the better.
Advertisements
9

Thick Patties Won't Dry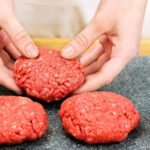 Advertisements
If you want your burgers to cook well, you have to form thick enough patties. A patty that's too thin will lose all of its moisture quickly, resulting in a pretty dry burger, and you really don't want that.
If you use thick patties, on the other hand, the meat will be dense enough that most of the middle area will retain the moisture you need for a juicy burger. While a thick patty might seem more intimidating to cook, it will definitely give you the delicious, tender burger you've been craving.
Advertisements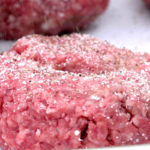 Advertisements
There is such a thing as too much seasoning, especially when it comes to burgers. While it's tempting to season the meat before you form it into patties, that can have disastrous effects on your finished product.
Instead, drizzle a little salt and pepper on the outside of the patty only before you put the burger on the grill. If there's too much salt mixed in with the meat, it will draw in moisture, leaving your burger too rubbery. Burgers don't need a whole lot to taste good, so take it easy with the salt if you want a truly juicy patty.
Advertisements
11

Get A Juicy And Delicious Burger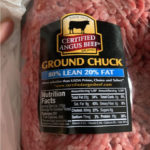 Advertisements
Needless to say, a good burger clearly starts with the meat. While it's tempting to buy whatever meat is the cheapest or—even worse—purchase a frozen patty, those choices would never lead to the best burgers. No one can say otherwise.
If you want a patty that's juicy and delicious, choose meat with a ratio of 80 percent lean to 20 percent fat. The higher fat content isn't the most healthy choice, but it does lead to a mouth-watering burger. With this combination, you're guaranteed to have one juicy patty.
Advertisements
12

Avoid Your Patties To Fall Apart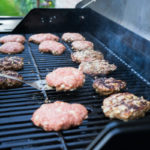 Advertisements
If you're inexperienced with a barbecue, knowing when to flip your burger might be a major challenge. You obviously don't want it to be too crispy on the outside, but flipping it too soon will only make it fall apart.
As a general rule of thumb, give your burger a chance to form a crust before you even attempt to flip it. Oftentimes, forming that crust will take at least three full minutes. Once the crust has formed, you can cook the other side of the burger without causing the patty to fall apart. Plus, the burger will keep that perfect round shape that makes you look like a master chef.
Advertisements
13

Aim For The Best Cooking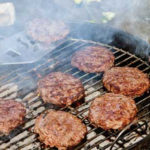 Advertisements
You can flip the burger once the crust forms, but that doesn't mean you're now free to flip the patty as much as you want. Burgers cook better if they're simply left alone. In fact, you really shouldn't flip it more than one time, twice at the very most.
If you're constantly messing with your burger, you're not giving it the time it needs to cook fully and evenly. If you just leave it alone, however, you'll develop that crispy crust with perfectly cooked meat all through the middle.
Advertisements
14

Spray Meat With Apple Juice to Keep It Moist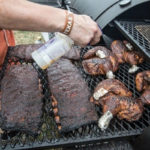 Advertisements
When cooking meat on the grill, maintaining moisture is a top priority. If you don't think about how to infuse your meat with moisture, you'll end up with brick-like meals that are both chewy and tasteless. How disgusting!
When grilling large cuts of meat, maintain the moisture levels by spraying the meat with apple juice. Not only will it infuse the food with liquid, but it will also add a delicious touch of sweetness. Apple juice pairs particularly well with pork, but it can be used on any cut of meat.
Advertisements
15

Mayonnaise Keeps The Meat Moisture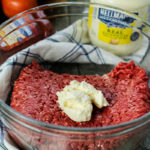 Advertisements
While you don't want lots of funky stuff added into your burger—after all, sometimes, less is more!—there is one add-in that can help to create the perfect finished product: mayonnaise. Yes, you read that right.
While mixing together your ground beef, add a small dollop of mayo before you form your patties. The mayo helps to pack in the moisture and adds just a little bit of extra flavor that will take your burgers to the next level. If you don't have mayo on hand, yogurt and sour cream will work just as well.
Advertisements
16

Avoid Overcooking Your Meat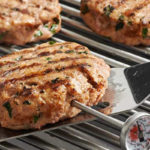 Advertisements
It's all well and good to guess when your burgers are done, but except if you're a chef, of if you're REALLY good at cooking, you'll find you get much better results if you cave and use a meat thermometer. If you want a medium burger, you're shooting for about 140 degrees Fahrenheit. If you want your burger well done, you should up that number to 160.
Using a meat thermometer completely takes out the guesswork in your grilling. You can even create a range of options that will satisfy every guest at your next outdoor cookout. What could be better than meat cooked exactly the way you like it?
Advertisements
17

Keep The Essence Of Your Burgers
Advertisements
If you want to feel truly fancy, you'll probably be tempted to add a few mix-ins to your ground beef. But extra spices, sauteed onions, breadcrumbs, and other odd add-ins will only ruin the integrity of your burger.
If you want a burger that really hits the spot, it's best to keep it simple. Stick with ground beef, salt, and pepper—that's it. Once you start adding other things into the mix, you're getting dangerously close to making meatloaf.
Advertisements
18

An Ice Cube Will Make Your Patty Even More Juicy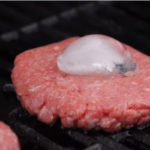 Advertisements
If you've tried everything and you just can't get a juicy patty, there's a way to cheat. Rather than forming thick burgers or struggling to cook the meat evenly, try putting an ice cube in the center of your burger patty.
As the burger cooks, the ice cube will melt, distributing juice throughout the meat. With that added dose of liquid, the burgers will come off the grill perfectly juicy and ready to eat. Using an ice cube might seem like the easy way out, but it works!
Advertisements
19

Avoid Too Dense Patties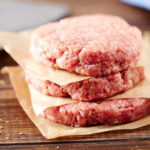 Advertisements
When forming your patties, it's tempting to really smash the meat together. After all, you want to be sure that the patties stay in one shape until they're fully cooked. However, packing your patties densely won't make good burgers. If the meat is dense before you cook it, just imagine how difficult it will be to eat once the burgers come off the grill.
Instead, pack your patties gently, with just enough meat to make sure they hold together. That way, the burgers will be light and delicious when they come off the grill, instead of looking like a crispy hockey puck that you have to eat.
Advertisements
20

Get Rid Of Burned Meat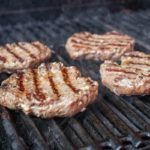 Advertisements
Just like when you're cooking in the oven, the heat of your grill matters in creating the perfect burger. If your grill is too high, it will make the outsides of your patty crispy in seconds, but the insides won't cook at all. The final result will be a dry, crunchy patty surrounded by burned bits of meat. That doesn't sound very enjoyable.
Instead, learn to balance the heat of your grill with the type of meat you're using. If you're using a patty with a higher fat content (as you should be), try to make the heat a little lower. The lower heat allows the burger to cook evenly, creating a much more delicious patty for your final product. If you're using lean meats, you can crank the heat up a little higher. Lean meat cooks more quickly, so a high heat shouldn't dry out your patty.
Advertisements
21

Make A Success Of Your Burgers Without BBQ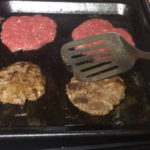 Advertisements
If you really want to get fancy with your burgers, try using a cast iron pan. Instead of taking your burgers outside, simply heat the pan or griddle on high heat. Once it's smoking a little bit, add a small amount of canola oil and put your burger on to cook.
Cast iron has excellent heat diffusion and retention, which allows your burgers to cook evenly while forming that crunchy crust. Cooking your burgers in cast iron may take a little more time, but the results will amaze you. However, we don't recommend this trick if you're trying to cook for a lot of people all at once.
Advertisements
22

Clean Your Grate to Avoid Broken Patties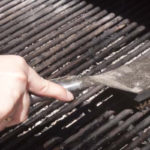 Advertisements
Cleaning your BBQ is annoying, but it's so essential in creating the perfect burger. Not only is it sanitary to start with a freshly cleaned BBQ, but a debris-free grate can also affect the way your patty cooks.
Burger patties are already naturally sticky. If your BBQ grate is full of debris, the proteins in your patty will immediately bond to any little scraps on the grate. Your patty will practically adhere to the metal, making it difficult to remove from the grate. When you go to flip your patty, it will likely fall apart, ruining your perfect burger. A clean grate allows your burger to sizzle without distraction, lessening the chance that the uncooked meat will stick to the metal.
Advertisements
23

Close The Grill Lid For Juicy Burgers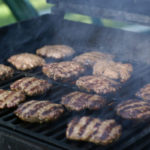 Advertisements
If you're an anxious cook, take a step away from the grill seems unimaginable. If you're not watching intensely, the burgers could burn! While this is true, you have to have a little trust in the process. Leaving the grill lid open and watching your burgers ensures they don't burn, but it also allows a lot of moisture to escape from the grill.
By closing the lid, you keep the heat and moisture trapped inside, creating an almost oven-like effect. The inside of the patty will cook while the outside develops that crunchy crust. But in addition, you'll end up with patties full of juice and moisture thanks to the closed grill lid.
Advertisements
24

Apply Glaze at the End to Avoid Burning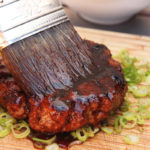 Advertisements
A glaze can really take your burger to the next level. Some grill masters decide to coat their patty with a BBQ glaze that adds an extra depth of flavor, resulting in a tasty, unique burger. But if you're going to use a glaze, you have to know when to apply it.
Apply the glaze to the patty at the end of your cooking process, rather than the beginning. If you add sauce to an uncooked patty and throw it on the grill, the sugar contained in the sauce will burn easily over high heat, turning your burger into a crispy hockey puck. Instead, glaze your burgers within the last two minutes of the cooking process. That gives you just enough time for the sauce to reduce and meld with the patty without burning over the heat of the grill.
Advertisements
25

Ensure Juicy Burgers With Water in Your Meat Mix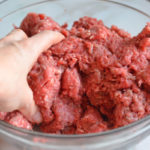 Advertisements
In case you haven't noticed, moisture is essential to creating a truly delicious burger. While ice cubes and wet hands can all help to keep the moisture in your meat, there's also a much simpler way to infuse your patty with liquid: just add water.
After you put together your mix, add 2 to 3 tablespoons of ice-cold water and mix it into your ground beef. The water infuses your patties with moisture before you even throw them on the grill. It's not as fattening as mayonnaise or peanut butter, but it will still produce the desired effect: a mouth-watering burger full of juicy moisture.
Advertisements
26

Don't Buy Store-Bought Patties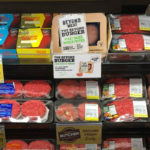 Advertisements
Store-bought patties are by far the easiest way to make a burger at home. However, they never result in the mouth-watering meal you're searching for. When buying a store-bought burger patty, you can never be sure what meat is included in the mix. Also, the shape of the burgers is never quite right, leading to those bubbled patties that are so difficult to eat.
If you want the perfect burger, don't buy store-bought patties. You'll have much better results if you buy the ground beef and shape it yourself. Not only can you infuse it with extras that ensure more moisture, but you can also verify the quality and fat content of the beef, which guarantees a more delicious patty.
Advertisements
27

Keep Fish From Sticking to the Grill By Cooking On Lemon Slices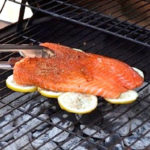 Advertisements
Cooking fish on a grill isn't easy. No amount of seasoning and oil can change the fact that fish is incredibly delicate. It sticks to the grill as soon as it starts cooking and often falls apart when you try to move it to a plate. To avoid a grilled fish that falls apart, don't cook your fish directly on the grill.
Instead of slapping your fish right onto the grate, place a layer of thinly sliced lemons on the grill first. Then place your fish on top of the citrus. Not only will the lemons impart beautiful flavor to your meal, but they'll also keep your fish from sticking to the metal as it cooks. You can achieve the same result by cooking on a thin layer of limes or oranges, depending on the flavor you want to give your fish.
Advertisements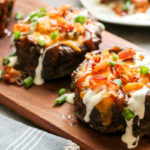 Advertisements
To make a change from the traditional burgers, and to avoid a little carbs in our day, why not try something new? Burger bowls are an easy to make and absolutely delicious alternative that everyone is sure to ask for more!
To create this dish, simply mix your ground meat with the spices of your choice, form bowls with your meat, then place sautéed mushrooms, cheese and bacon in them. Then bake your bowls in the oven at 350°F with a foil tent for 30 minutes. Once ready, add a little bbq sauce, ranch sauce, bacon bits, and diced chives, and enjoy!
Advertisements
29

Use Tuna Can to Keep Larger Pieces of Meat From Burning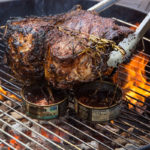 Advertisements
If you've ever cooked large cuts of meat on the grill, you may have realized that even cooking is difficult to accomplish. With large cuts, the outside of the meat often burns before the center even cooks. The result is a dish that's crispy and charred on the outside, but raw in the middle.
To fix that problem, try placing your meat on top of an empty, cleaned tuna can as you cook. First, put the meat directly on the grill to get that crunchy, charred crust. Then prop the meat up on the tuna cans to continue cooking the inside without burning the outside. The outside won't come in contact with the grate, effectively ended the cooking process while the inside catches up to the charred edges.
Advertisements
30

Check the Level of Your Propane Tank With Hot Water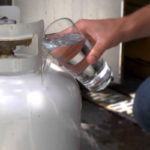 Advertisements
Before you even start your BBQ, you should know the level of your propane tank. A full tank is essential to a problem-free cookout. But how do you know just how much propane you have left? To check the level of your propane tank, all you need is a glass of hot water.
Simply pour the water over the side of your propane tank. Then, feel along the side of the tank with your hand to find the point where the tank changes from being hot to cold to the touch. The parts where the tank is hot from the water are empty, while the cold sections still contain some propane.
Advertisements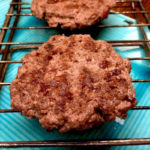 Advertisements
With most meats, chefs are instructed to let them rest after they're finished cooking. Resting the meat usually allows it to soak in the juices, creating a more tender piece of beef when you do finally dive into it.
However, the opposite is true for burgers. If you let your burgers rest too long, most of the juices will simply leak out onto the platter. This is due to the nature of meat, which doesn't have any muscle to hold in the extra juices. If you want to eat your burger at its most delicious, feel free to pop it on a bun and dive right in as soon as it's off the grill.
Advertisements
32

Use White Bread to Locate Grill Hot Spots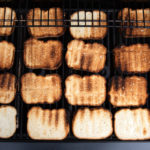 Advertisements
Every grill has hot spots. While these warmer areas of the grate are natural, they can also be disastrous to your cooking if you're not aware of them. The hot spots will cook your food much more quickly, so you should know which areas are the warmest before slapping your food on the grill.
To create a visual representation of your grill's hot spots, cover the grill with slices of white bread. After a few moments of cooking, some slices will remain rather pale while others are crispy and black. The more charred pieces indicate the hot spots on your grill, while pale pieces point towards colder areas. Once you know the difference in heat across your grill, you can use the hot spots to cook food more quickly or take advantage of the cold spots for slower grilling.
Advertisements
33

Cook Chicken On Low Heat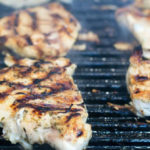 Advertisements
Unlike beef patties, you won't get the best results with chicken if you toss the pieces onto a flaming hot grill. Instead, chicken thrives in a low and slow cooking environment. If you want chicken that's juicy on the inside, but crispy on the outside, make sure the heat of your grill is lower than it would normally be.
Then, pop the chicken onto the grill and turn it often. After a while, the chicken will start to crisp up, but the inside will maintain its moist, delicious flavor. While cooking chicken this way takes a little longer, the results are worth the effort.
Advertisements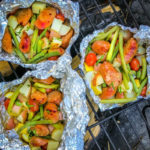 Advertisements
If you've ever tried to cook veggies on the grill, you know it's not as easy as it sounds. Many veggies are small and end up falling through the cracks, making them completely inedible. Even veggies that aren't tiny may shrivel as they cook, causing them to fall onto the hot coals anyway.
To cook your veggies perfectly on the grill, use foil. Wrap all your veggies in foil and place the entire packet onto the grill. The veggies will cook evenly and quickly, and you won't run the risk of losing any parts of your meal between the grates of your grill.
Advertisements
35

Cook Steak At Room Temperature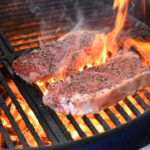 Advertisements
While burgers maintain a lot of their moisture if they're cold, steaks are the exact opposite. To make a steak at home that melts in your mouth like butter, you need to ensure the steak spends as little time as possible on the grill. The colder the steak is when you start cooking, the longer it will need to sit on the grill. The longer the meat is on the grill, the more tough and chewy it becomes.
If you're going to cook a steak on the grill, take the meat out of the fridge at least 30 minutes before you're ready to start cooking. By taking the steak out of the fridge, you allow it to adjust to room temperature. Then, when you toss the steak onto the grill, it needs much less time to get to that perfect medium-rare temperature. The result will be a soft, juicy steak the whole family will enjoy.
Advertisements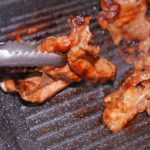 Advertisements
It's completely logical to assume that you should remove meat from the grill when you think it's done cooking. However, that's not the best way to create the juiciest, most delicious meats. Instead, you should remove your meats from the grills just before their ideal level of doneness.
Too few people know that the meat will continue to cook a bit more after it's removed from the grill. By taking it off early, you ensure that your meat is the exact temperature you're looking for, rather than a little overcooked.
Advertisements
37

Split The Heat of the Grill For Hot Dogs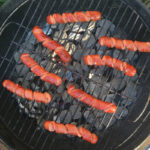 Advertisements
Cooking hot dogs on the grill is a bit of a challenge. If left too long, the hot dogs can easily burn, leading to tough, tasteless meat. However, there's an easy way to avoid burning your hot dogs or undercooking the insides.
Before you toss hot dogs on the grill, split the heat by putting the coals to one side or only turning on half the burners. Then, place the hot dogs on the hot side and make sure you keep a close eye on them. Turn the hot dogs regularly to get even grill marks on all sides. When the hot dogs start to expand, roll them to the unheated side of the grill and allow them to sit there for a minute or so. At the end of the process, the hot dogs will be warm and juicy with the perfect amount of crispiness on the outside.
Advertisements
38

Marinate Chicken Wings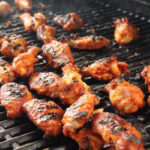 Advertisements
The things you can make on the grill aren't just limited to burgers, hot dogs, and steaks. If you think you're a grill master, challenge yourself by creating the perfect plate of chicken wings. Unlike normal chicken, chicken wings don't need to be cooked over low heat. The skin prevents the outside from burning, and the pieces are so small that they cook through fairly quickly.
However, just tossing the chicken wings on the grill isn't enough. If you want a mouth-watering plate of chicken, you need to marinate the meat before you grill. There are a variety of marinades that will lead to delicious chicken wings, so the possibilities are endless. Just make sure that you marinate your wings for at least an hour and cook them over medium-high heat for perfect results.
Advertisements
39

Precook Ribs Before Grill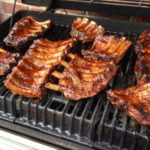 Advertisements
Unlike most meats cooked on the grill, cooking the perfect ribs actually requires an extra step. Before you put your ribs on the grill, precook them in a pot of boiling water with a cup of apple cider vinegar. Once the ribs are tender, remove them from the water and toss them on the grill.
Ribs generally require a long cooking time over low heat, which can be tough to accomplish on a grill. By precooking them, you ensure that your meat stays tender and delicious. Once you toss them on the grill, you just need to create a crispy outside to serve up a plate of flavorful, tender ribs.
Advertisements
40

Add Plenty of Seasoning To Steak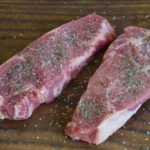 Advertisements
While many people want to cook the perfect steak on the grill, under-seasoning is a big problem for most amateur grill masters. While you might think you've added plenty of salt to your steak, the chances are that you're wrong.
In general, it's recommended that you add roughly double the amount of seasoning you think you need to your steak. By adding plenty of salt, you help the meat retain water, promising a juicier piece of meat. In addition, plenty of seasoning ensures that none of the flavors are lost in the cooking process, resulting in a steak fit for a five-star restaurant.
Advertisements
41

Create a Non-Stick Grill With a Potato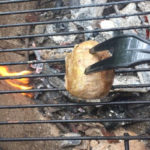 Advertisements
Oil is an essential ingredient while grilling. Plenty of oil on the surface of your grill ensures that no meats will stick to the grate, thereby ensuring all your food leaves the grill intact. However, instead of using tons of oil on the surface of your grill, create a naturally slippery surface with just a potato.
Once the grates are hot, rub them with a potato. The potato will release all kinds of oil, making the grill naturally non-stick. Not only is this a more natural approach to creating a non-stick surface, but it also allows you to save money by not wasting all your oil.
Advertisements
42

Test Grill Heat With Your Hand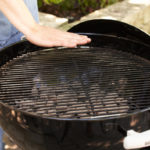 Advertisements
It's all well and good to know that you should cook certain meats over low heat and other meats over high heat. But when it comes to actually cooking on your grill, how do you know how hot it is? Thankfully, all you need to test the heat of your grill is your hand.
Before you start cooking, hover your palm about five inches about your grill. If you can keep your hand there for ten seconds or more, the grill heat is low. If you have to move your hand in roughly five seconds, you can consider your grill medium. Lastly, if your hand can only take two seconds above the grill, you'll be cooking over high heat.
Advertisements
43

Place Foil-Wrapped Bricks Over Chicken For Even Cooking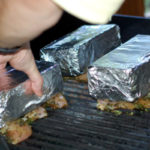 Advertisements
Certain cuts of meat aren't exactly conducive to a grill. Chicken, for example, often features an uneven shape that bends as it cooks, which can make it difficult to grill each piece evenly. To remedy that problem, all you need is a few bricks.
As you grill your chicken, place a brick on top of the meat to flatten it into the grill. To ensure a sanitary cooking environment, wrap the brick in aluminum foil before placing it on the chicken. The brick will press the chicken evenly into the grill without smashing the meat, ensuring even cooking and a tasty piece of chicken.
Advertisements
44

Keep All The Patties' Inner Juice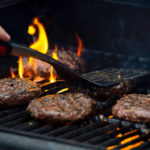 Advertisements
Pressing down on a patty seems like a normal part of cooking a burger. Once they're on the grill, you can press them into the heat by squashing them slightly with a spatula. However, this standard move ruins your burgers.
When you press the burger with the spatula, you're squeezing out much of the inner juices. Without those juices, the patty will be dry and tasteless, not to mention, allowing those juices to fall into the grill leads to flare-ups, which may cause your burgers to cook too quickly or even burn. Once you put the burger on the grill, resist the urge to mess with it unless absolutely necessary.
Advertisements
45

Skewer Smaller Pieces of Meat for Faster Cooking Times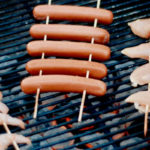 Advertisements
Of course, you can make much more than burgers on a BBQ. If you're short on time, but still want to use your grill to your advantage, skewers provide the perfect solution. Rather than cooking a large piece of meat on a grill, cut your meat into smaller pieces and pierce it with a skewer to make kebabs.
The skewers not only allow you to cook smaller pieces of meat, but they also force the meat to lay flat on the grill, allow it to fully cook through much more quickly. It's not your typical BBQ burger, but a few delicious skewers will still result in a tasty meal. Always use two skewers to avoid losing pieces!
Advertisements
46

Avoid Hard To Chew Burgers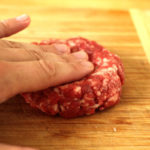 Advertisements
Ground beef changes the more you mess with it. As soon as you start working your meat into patties, you're messing with the structure of the ground beef. If you overwork it, the meat will become denser, tighter, and all-around less appetizing.
Once you start forming your patties, try to mess with the meat as little as possible. Of course, you have to knead it into the correct shape, but you shouldn't spend a lot of time working with the meat. The less you work the meat, the more tender and delicious your burgers will be when they come off the grill.
Advertisements
47

Avoid Patties That Stick To The Grill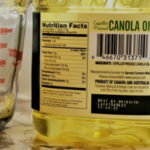 Advertisements
Burgers can be quite stubborn. After you're finished cooking, you may find that you're putting a lot of effort into scraping the patties off the grill. It's almost like they want to stick around! A burger's stickiness stems from the combination of juices and proteins in the meat. The proteins will stick to anything, which is why it's so hard to get your patties off those grates.
To get rid of some of that stickiness, rub your patties with canola oil after you season them, but before you grill them. The thin coat of oil should balance out some of the stickiness, allowing your burgers to slide right onto your plate when they're finished cooking.
Advertisements