20 Common Cooking Mistakes That Are Ruining Your Food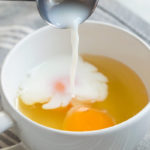 1

Adding Milk to Scrambled Eggs
Advertisement - Continue reading below
Plenty of people add milk to scrambled eggs, hoping for a fluffy, creamy finished product. But the truth is, milk can actually ruin your eggs. Adding milk to your scrambled mixture makes your eggs rubbery rather than fluffy, resulting in a meal that requires far too much chewing.
Instead, add unseasoned eggs to a pan on low heat. Stir the eggs until they're nearly done, then take them off the pan. At that point, you can add extra seasonings, such as sour cream. Sour cream added at the end of your cooking process will give your eggs the creamy consistency you were hoping for with milk, plus a little extra tanginess in the flavor.
Advertisement - Continue reading below
Advertisement
Food Stats
Did you know that according to a survey conducted by the U.S. government about the eating habits of its citizens, they have very bad nutritional habits, and that's saying a lot.
About 3 out of 4 Americans do not eat enough vegetables, fruits, dairy products and good fats every day.
The majority of Americans eat too much of foods filled with sugar, saturated fats and salt.
While more than half of the U.S. population consumes the right amount, if not slightly more than the recommended amount, of grains and protein, they do not follow the recommendations for subgroups of these food categories.
In fact, here are some other interesting facts about American eating habits that are rather disturbing:
According to a 2012 study, 52% of Americans consider it easier to do their taxes than to understand how to eat healthy;
According to the U.S. Department of Agriculture, the average American would consume nearly a ton of food, or 1,996 pounds, per year;
A 2012 study showed that 7 out of 10 Americans do not believe that all sources of calories play an equal role in weight gain. Instead, they believe that carbs, sugar and fat are the only ones responsible;
Americans consume 31% more packaged food than fresh food;
More than 10 billion donuts are consumed each year in the United States;
10% of the disposable annual income of Americans is spent on fast food;
The average American tends to eat better at the beginning of the day; with each hour that passes, the healthiness of the food consumed drops by 1.7%;
20% of all American meals are eaten in the car.
In other words—or numbers, more precisely:
More than 80% of Americans do not eat enough vegetables;
Nearly 80% of Americans do not eat enough fruit;
More than 40% of Americans do not consume enough total grains;
More than 80% of Americans do not consume enough dairy products;
About 40% of Americans do not consume enough protein foods;
Over 70% of Americans do not consume enough oil.
But, on the other hand:
About 70% of Americans consume too much added sugars;
About 70% of Americans consume too much saturated fats;
About 90% of Americans consume too much sodium.
There's something sincerely disturbing about these numbers, don't you think? Especially when we know that good nutrition is the basis of optimal health, both physical and mental. These results are distressing, even worrying. With our various articles about food, you will be able to improve your diet for a healthier and more balanced life!