10 of the best Netflix movies to watch in 2018
There's nothing better than a "Netflix and chill" afternoon to disconnect a little from reality. So here are the best Netflix movies to watch right now!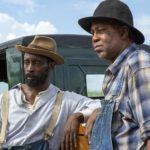 When you think of Netflix, often the first thing that comes to mind is the ton of TV series that the platform offers us. However, its large selection of films is not insignificant either! As well as the series available, we can find original Netflix films as well as American and international films, old and new, ranging from Black Panther to Coco, The Danish Girl and Lady Bird. However, Netflix tends to rotate the various movies offered, so what is currently online may no longer be online in three months. As much as it may seem sad, it allows a good selection and the constant arrival of new additions. With that in mind, here are 10 of the best Netflix movies to watch right now.
Advertisements
Creep
Released in 2014, Creep, a fantastic horror film mixed with a dramatic comedy – let's put it that way – directed by Patrick Kack-Brice, is shot on camera on the shoulder, in the Blair Witch Project style, with a very small budget and only two actors. From that standpoint, it might discourage many, but don't get us wrong; the shoulder camera shooting, the jerky style of the shots and the "film found by chance on the roadside" effects were necessary to make this film perfect. Creep mixes several different genres in a frantic alternation, which makes it all the more interesting, but it must be said that the film really wouldn't have been the same without Mark Duplass' incredible performance. Creep will undoubtedly give you goosebumps!
Advertisements
The Gift
A gripping thriller featuring Joel Edgerton – who is also the director, screenwriter and one of the producers -, Rebecca Hall and Jason Bateman who, for a rare occasion, does not play a comic role, The Gift is a success in every respect. The film tells the story of Simon and Robyn, recently married, who one day come across Simon's old classmate, Gordo. The latter, mysterious and lonely, will turn out to be increasingly strange, starting by sending various gifts to the couple and showing up at their home uninvited. Of course, the story is not revolutionary, but the complexity of the characters makes up for the rest. None of them seem innocent and one wonders who the true villain of the story is, until the very end of the film.
Advertisements
Beasts of No Nation
Adapted from the eponymous novel by Nigerian author Uzodinma Iweala, Cary Joji Fukunaga's Beasts of No Nation, released in 2015, which happens to be an original Netflix, is certainly one of the best films to watch on the platform right now. Starring Idris Elba, Abraham Attah, Emmanuel Nii Adom Quaye and Kobina Amissah-Sam, the film tells the story of young Agu, who lives in West Africa, whose life is suddenly disrupted when his father is massacred in a civil war. Registered as a child soldier in a mercenary unit, he would then have to comply with the requirements of a sadistic commander. This film, although difficult, offers a sober and uncompromising vision of the human cost of war, but not without a hint of hope.
Advertisements
The Fundamentals of Caring
The Fundamentals of Caring, a film directed by Rob Burnett and released in 2016, is a real feel-good movie, courtesy of Netflix. While an 18-year-old with muscular dystrophy travels with his caregiver, we follow the two men on their road trip to discover their country. Their adventure will lead them to meet various people on their way, including a young woman who was hitchhiking and whom they decide to pick up. The film does not revolutionize the genre, but the impeccable staging and amazing cast, including Paul Rudd, Craig Roberts and Selena Gomez, forgive the few possible scenes that are a little too familiar and take us on a pleasant and entertaining journey.
13th
Netflix has a large number of films, but we should not forget its documentaries. One of the best you can find on the platform is undoubtedly 13th, released in 2016 and directed by Ava DuVernay, the director who gave us the wonderful film Selma in 2014. This documentary, whose title refers to the 13th Amendment to the Constitution stating that "Neither slavery nor involuntary servitude, except as a punishment for crime whereof the party shall have been duly convicted, shall exist within the United States", focuses on the state of races in America, in particular the increasing incarceration rates and the imbalance between the way black people are convicted for the crimes they have committed. The filmmaker examines both post-Emancipation migration and systemic racism since the early 20th century, as well as the moments in modern political history that continue to encourage racism. Alternating sequences of archives with the testimonies of activists, politicians, historians and former prisoners, 13th represents a real, detailed and aberrant historical synthesis of which we should all be aware. It's certainly one of the documentaries you have to see once in your life.
Gerald's Game
Adapted from a Stephen King novel, Mike Flanagan's Gerald's Game, released in 2017, is another example of an excellent original Netflix. Although considered by many as a novel impossible to adapt to the cinema, the director proves the opposite. The story takes place in the same location all throughout the film, the bedroom of an isolated holiday home, more precisely on the bed in that room. Jessie and Gerald take advantage of their getaway to have a little fun in bed, but as the man tries to indulge his strange fantasies and has handcuffed his wife to the headboard, he dies of a heart attack. Alone and handcuffed, with her husband's body on the floor at the foot of the bed, Jessie had to face the situation by trying not to panic when no one could save her anymore. While this is a scenario that seems rather poor to support an entire film, it is, in fact, an extremely powerful and profound work that addresses themes such as trauma, memory and resilience. Starring Bruce Burlingame, but especially Carla Gugino, Gerald's Game is a must-see thriller!
Strong Island
Another documentary that can be found on Netflix – which is another original work of the web platform – and which is well worth seeing is Strong Island by Yance Ford. Taking an interest in the murder of his brother William, a 24-year-old African-American teacher, the director returns to this unforgivable and cruel crime. In April 1992, William was killed in New York City by Mark P. Reilly, a 19-year-old white Lake Grove mechanic. Although the murderer is well identified, a grand jury composed entirely of white people from Suffolk County refused to find him guilty, as he claimed that his act was in self-defence. Yet William was unarmed. In this poignant and revolting documentary, the director tells the story of his family's tragedy and the history and context surrounding the event. Yance Ford put all his heart into this intimate and meditative documentary, questioning how to live with the grief and loss of a loved one following a historical injustice when living in a world where silence is the norm.
I Don't Feel at Home in This World Anymore
It so happens that Netflix creates really great original content, which means that the film I Don't Feel at Home in This World Anymore is also included in this list. Directed by Macon Blair, this film stars Melanie Lynskey, Elijah Wood, David Yow, Jane Levy and Devon Graye in a comical and extraordinary drama. I Don't Feel at Home in This World Anymore tells the story of Ruth, a depressed nurse with low self-confidence, who is greatly shaken when she is the victim of a burglary. The police in charge of the investigation were not active enough investigating the crime so she decides to go looking for the burglars herself with the help of her neighbour Tony, a heavy metal fan who handles nunchaku and ninja stars perfectly. This somewhat crazy revenge story is a clear success that manages to comfort all those who, like Ruth, find the vast majority of people stupid.
Mudbound
Dee Rees' film Mudbound, released in 2017, takes place in the 1940s, just after the Second World War, when the McAllan family arrived in Memphis, Mississippi. Determined to work in agriculture, the family will discover that the trade is much more difficult than they thought. At the same time, we follow the Jackson farmers, who do everything in their power to achieve their dreams despite racism and social barriers that hinder their path. These two families are confronted by a merciless social hierarchy, but they are also, in spite of themselves, linked by their common agricultural lands. With this film, the director explores a subject that is rarely exploited in cinema, namely the existence of the South of the country after slavery. Mudbound is a poignant drama that attempts to build on the past to better understand the present.
Private Life
Led by two incredible actors, Paul Giamatti and Kathryn Hahn, Private Life, another original Netflix, is a funny and moving dramatic comedy about a couple facing infertility problems. Richard and Rachel are trying to keep their marriage alive as they attempt assisted reproduction. However, these options do not work and after having also tried in vitro fertilization, without success, the couple is at the end of its rope, emotionally and economically. However, when the young Sadie, who had just dropped out of school, resurfaced in their lives, their story takes a completely different turn. Private Life is definitely a little jewel from Netflix that you should definitely see.
There are plenty of choices when looking for the best Netflix movies to watch when you want to relax in front of the TV. Whether they are original creations of the platform or not, let yourself be tempted by those who challenge you the most and enjoy the entertainment!
---
Cover photo: IMDb | Steve Dietl/Netflix