5 meditation apps to improve your well-being
There are many ways to improve your well-being, from yoga to meditation. Here are 5 meditation apps to try.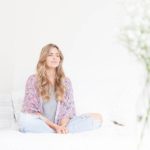 Happiness and self-care come through a variety of small gestures, including having healthy relationships with those around us, being physically active and eating enough. You also need to take time for yourself to reduce stress. But what can we do when anxiety is too prevalent in our lives? It can be reduced in several ways, including with the help of meditation. If you are only just getting started with this type of relaxation technique, here are 5 meditation apps to experiment with right now!
Advertisements
Headspace
One application you can download to get started in meditation is Headspace, available on the App Store and Google Play. You are entitled to a 30 days free trial before paying for a premium subscription and thus have access to all the application's functions. Headspace was born following the meeting of Andy Puddicombe, a Buddhist monk, and Rich Pierson, a man who wanted to overcome his daily stress. Using about 100 themes, you will learn to reduce your stress and anxiety through short meditation methods ranging from 3 to 10 minutes. So it's a perfect application if you have a busy lifestyle. There are also one-minute meditation sessions designed to manage certain states of mind (such as a state of panic). This application is adopted for:
Its colourful interface and charming animations;
Its reward system;
Its approach designed for beginners.
Advertisements
Stop, Breathe, & Think
The Stop, Breathe & Think application, also available on the App Store and Google Play, allows you to focus on your physical, mental and emotional state. Meditation sessions last from 2 to 15 minutes, so you can integrate them quite easily into your daily life. Stop, Breathe & Think offers you free meditation sessions based on visualization. You can find the themes "Engaging Your Senses", "Falling Asleep" and "Cause and Effect". This is a great application if you want to learn how to reduce your anxiety through various meditation techniques.
Advertisements
Calm
Once again, this application is available on both Android and iOS. Calm invites you to do meditation sessions ranging from 3 to 35 minutes on topics such as stress and concentration. You will find breathing exercises, meditation sessions for children, stories made to help you fall asleep, video stretching sessions as well as musical compositions made to relax and promote sleep. Its functions are therefore numerous and aim to address all kinds of issues.
Advertisements
The Mindfulness App
This application is no exception to the rule! So whether you have an iPhone or an Android, you will be able to use it. The Mindfulness App is aimed at both beginners and people who have already done meditation. You will find several features, including an introduction to mindfulness, meditation sessions lasting from 3 to 30 minutes and reminders, so that you can integrate your sessions into your routine. You can access the application for free or get it with the premium subscription, which gives you the right to many more meditation sessions.
Insight Timer
Insight Timer is another meditation application that you can install, regardless of the phone or tablet you are using. This free application allows you to enjoy more than 4000 meditations by experienced teachers on topics as varied as stress and compassion. You can also listen to podcasts and chat with other people in the Insight Timer community on various chats. Like the Calm application, Insight Timer invites you to listen to musical compositions such as classical music and sacred songs to relax. The benefits of meditating through this app are many; it can help you relax, develop your compassion and foster creativity, among other things.
Meditation with an application is therefore user-friendly and very beneficial for mental, physical and emotional health. Please note that despite the fact that many meditation applications are not free, most offer a free trial period of a few days. It is, therefore, worthwhile to learn about this mode of relaxation and try to integrate it into your routine to have a healthy lifestyle.
---
Cover photo: Instagram @amelia_harvey_