Discover the top 10 tea houses in New York City
Are you a tea lover looking for new places and new flavours? These tea houses in New York City will charm you.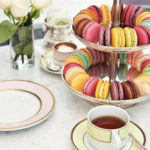 Tea is like coffee: it's delicious and you can drink it at any time of the day, whether it is when you wake up, before going to bed or to comfort yourself in the middle of the afternoon. However, although we often hear people ask "Do you want to go get a coffee?", it is rather rare to hear someone ask "Are we going to have tea?". Cafés abound in every city, so many that you can find them on almost every street corner, but what about tea shops? Yes, they do exist, and going there to have tea in good company is very pleasant. Here is a small selection of the top 10 tea houses in New York City for your next tea break.
Advertisements
Bosie Tea Parlor
If you are in the West Village, you must experience the Bosie Tea Parlor. This tea house will make you live all the tradition of afternoon tea. With over 100 loose leaf teas and a variety of sweet or savoury snacks to accompany your beverage, served for one or two people in a combination of treats, macaroons and tea sandwiches, Bosie Tea Parlor will charm you.
Advertisements
Cha-An
Cha-An, a Japanese tea shop, is located in New York's East Village. There is a warm atmosphere in a traditional setting decorated with rice paper lamps. This tea room is perfect for your late afternoon break when you can enjoy homemade Japanese cuisine, but also French pastries, while you drink one of their different teas, herbal teas, sake, beer or cocktails.
Advertisements
Radiance Tea House and Books
With two locations – one in Midtown West and the other in Midtown East – Radiance offers something to quench your thirst depending on your mood. The tea blends offered in this parlour are prepared by experienced tea sommeliers. You can choose from their selection of 100 varieties of traditional teas, blends of teas and herbal teas of superior quality served in an authentic way. Radiance also has a complete range of wellness teas. It is also possible to book for a tea tasting session. Enjoy a moment of perfect relaxation by enjoying a delicious hot tea while leafing through one of the many books at your disposal.
Advertisements
Tea Drunk
Tea Drunk, located in the East Village, is the world's most popular tea producer. It is important to note that Chinese culture does not consider the term "drunk" as a negative term, quite the contrary; as indicated on the website, "it is a romantic expression used to describe the indulgence of a person with a true passion. The name, Tea Drunk, is therefore perfectly chosen since these producers always make sure to order their teas in the most conservative way possible in addition to offering only teas that have been harvested for only 10 to 15 days a year in renowned tea mountains. Offering six categories of tea – Green, Yellow, White, Oolong, Red and Black – as well as sub-categories such as Cliff Tea, Dan Cong, and Pu Er, Tea Drunk will offer you a tea that will please you.
Alice's Tea Cup
Visiting Alice's Tea Cup tea house is an experience in itself. Inspired by the tale of Alice in Wonderland, this three-location lounge will immerse you in a magical fantasy atmosphere. You can go there at any time of the day to enjoy tea and a three tiered tray filled with treats, but also various fresh and light dishes that will satisfy you. Perfect for a family outing, Alice's Tea Cup will please all those who still have their child's heart.
T Shop
Specialized in Taiwanese teas, the T Shop in the Nolita district will serve you according to your preferred tastes. Indeed, the owner of this tea house in New York City will be pleased to guide you through his large selection of teas. We advise you to choose the tasting option, which will allow you to taste five infusions of your choice. In addition to getting various teas, you can also leave the T Shop with magnificent accessories, from cups to gaiwan, a typical Chinese cup with a lid.
Tea and Sympathy
Tea and Sympathy, located on the border of the West Village near the Chelsea district, can be considered more like a restaurant than a tea house. However, since this is the perfect place to enjoy an authentic British experience and unique blends of teas, it was important to be included in this list. Whether you choose to go for breakfast, lunch or dinner, you will have a tea to enjoy that will go perfectly with your dish. If you are going there for dinner, it is advisable to try their Afternoon Tea which includes a teapot, scones, a selection of cakes and tea sandwiches.
Ladurée
Located in Soho and on the Upper East Side a few blocks from the Central Park Zoo, Ladurée is a tea room that will give you the impression of being in Paris right in the heart of the United States. You can go there at any time of the day, but from 3pm to 6pm the Tea Time Menu is served, which includes a hot drink – tea, coffee or hot chocolate – and the selection of a financier, a canelé, 3 macaroons, 2 tea sandwiches, 4 petits fours, 2 marshmallows and a salted madeleine.
Lady Mendl's Tea Salon
Located in Gramercy Park, Lady Mendl's is the ideal place for a lovely afternoon tea. Put on your most beautiful clothes and go to this Victorian-style salon to let yourself be transported back to another era. Lady Mendl's offers an incredible five courses with unlimited tea every afternoon. Clotted cream with scones and tea sandwiches are delicious, but you should try their Mille Crêpe Cake, made up of 20 thin pancakes stacked on top of each other and separated by a delicious layer of vanilla cream, which is as tasty as you like. Take the time to book to ensure yourself a place!
Physical GraffiTea
If there is a tea room not to be missed in New York, it is the Physical GraffiTea. Located in the Physical GraffiTea, a historic East Village building that was the cover of Led Zeppelin's eponymous album, you will find over 200 tea choices of all kinds, not to mention their homemade herbal blends. Note that their teas are organic, fair trade and tasty!
Lovers of comforting hot drinks, don't hesitate to switch your coffee for a delicious cup of tea in one of the best tea houses in New York City on your next visit to the Big Apple. This is the perfect moment to relax after a day of activities or shopping!
---
Cover photo: @ladureeus | Instagram