Everything you should see and do on your next trip to Seattle
Starbucks was born here and so was Amazon. Seattle, Washington is a great city to visit for a quick getaway with friends, family or your loved one.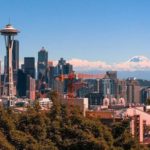 The Emerald City, known for its gorgeous views of Mount Rainier and its passion for all things coffee, is definitely an American city to visit even if it's only for a few days. Surrounded by water and exceptionally lush and vibrant nature, Seattle is the perfect playground for outdoor-loving individuals. However, those who prefer the excitement of the city will marvel at the sheer volume of things to see and do here. From the Amazon headquarters to the Pacific Science Center, your days will be packed with interesting places to explore. Even with the rain, this city will enchant you. Just grab your umbrella, raincoat and wellies, and you're good to go!
Advertisements
Visit the Amazon headquarters
Unless you live under a rock, you either buy products off Amazon or at least knows it exists. If you're curious to see this billion dollar company's headquarters, Amazon offers guided tours of its downtown headquarters. This 90-minute tour will take you inside a few buildings and you'll get to know more about this internet giant. Note that the tours are only available on Wednesdays at either 10:00 a.m. or 2:00 p.m. and waiting lists do happen so book in advance.
Advertisements
Sip on natural wines at Left Bank
You might not know this but Washington State produces excellent wines. Head over to Left Bank to try (and then buy because let's face it, you won't be able to resist) some of these local wines and try other natural wines from all over the world including from France, Spain and Chile. Left Bank is the oldest wine shop in Seattle and they pride themselves in being a wine shop that offers affordable and great wines for its community.
Advertisements
Browse the beautiful selection of clothes and accessories at Totokaelo
Shopping is an inescapable thing all individuals do during a trip; we just can't help it! Located in Pike/Pine, Totokaelo is the place to find fashionable and unique clothes and objects. They boast a large collection of designer clothes from Acne Studios, Cancellato, Jin Soon and Neous but they also have special and chic objects like vases, bookends, rugs and candles to bring back and make all your friends jealous.
Advertisements
Tour the Westland Distillery
Fans of single malt whiskey, rejoice! Westland whiskey, located near the Living Computers museum, will teach you everything you'd like to know about this American whiskey. You can go to the distillery every day of the week except on Mondays but tours are only offered Wednesday through Saturday and you'll need to make a reservation (the tours cost $17.34 and are offered at 12:00 p.m. and 4:00 p.m.). You can eat and enjoy some drinks at the Cantilever Room and if you don't have time to come here, know that you can find Westland whiskeys pretty much all over Seattle.
Take a stroll through the Seattle Arboretum
What's an arboretum you ask? It's a botanical collection of trees and Seattle has one of the most beautiful and lush arboretums in the United States (thank you rain!). A partnership between the city and the University of Washington, this collection of green spaces includes a Japanese garden, a woodland garden, a winter garden, etc. It's open every day and free of charge so you can enjoy strolling through the Azalea Way or even enjoy the scenery by kayak or canoe!
A feast for the eyes at Pike Place Market
The Pike Place Market is a classic place to visit in Seattle and with good reasons. This huge market offers fresh produce from local farmers, specialty foods like cheese, chocolate, honey, olive oil, wine and beer as well as meats and fish. You can buy different foods and create the perfect picnic to bring to a park or you can eat at one of the numerous restaurants in the market like Matt's in the Market, Country Dough and Le Panier for baked goods.
Explore Seattle's biggest green space: Discovery Park
Tired of the city? Flee the skyscrapers to a beautiful open space right near the water. The biggest green space in Seattle, Discovery Park is a 45-minute bus ride or a 15-minute car ride from downtown. With 11.8 miles of walking trails, sea cliffs, sand dunes, and stunning views of the Cascade and Olympic Mountains, you'll think you've travelled to another world. If you're blessed with a beautiful day while in the Emerald City, we highly suggest you spend it here!
Take a taxi… a water taxi that is!
Seattle, like Venice, is a city that loves and uses the water that surrounds it. There are tons of ways to enjoy the water around the city but some are more expensive than others. A yacht tour is great but tends to cost a little fortune and if you book in advance and the winds are howling and it's raining (which can easily happen), it won't be very pleasant. We recommend you take the Elliot Bay Water Taxi to get to West Seattle and Alki Beach. You'll enjoy the water and actually go somewhere interesting.
Brush up on your high school science at the Pacific Science Center
It's raining and you've already been to the Seattle Art Museum and the Museum of Pop Culture? Head over to the Pacific Science Center to learn all about science. This is a great place for families since kids can spend hours visiting the exhibits, the planetarium, view some IMAX documentaries, and more. Adults will also enjoy the activities reserved for the 21+.
Enjoy a meal at L'Oursin
After a jam-packed day, you are starving and you want to have a delicious meal. L'Oursin (oursin means sea urchin in French), a French restaurant located on Jefferson Street in the Central District, offers incredible seafood dishes like grilled lingcod, poached coho salmon and arctic char tartare. Enjoy your meal with a delicious glass of natural wine from the United States and all over the world. Choose between their à la carte menu or tasting menu for an epic night out.
Forget about Starbucks, visit other excellent coffee houses
Seattle natives love coffee. They probably have more coffee running through their veins than blood. Instead of going to Starbucks, as you do at home, go to other phenomenal coffee houses that fill this city. We highly recommend Slate Coffee Roasters located downtown and in the University District, Zeitgeist in Pioneer Square, Milstead & Co in Fremont, Cherry Street Coffee (with numerous locations) and Victrola on Capitol Hill.
Work on your tan at Alki Beach
Alki Beach, which can be accessed by water taxi, is a wonderful place to spend an afternoon. This West Seattle staple offers incredible views of both the city (hello Space Needle!) and the mountains. Go for a run, a bike ride or a walk, have a bonfire with your friends or enjoy a picnic and ice cream for an outdoorsy day you'll never forget. If you're lucky, you might come back with a tan… or sunburn.
The United States is filled with splendid cities from north to south, east to west. Even though cities like New York, Chicago and Los Angeles are always on the top of everyone's list, Seattle is certainly a city we recommend visiting for its impressive juxtaposition of city and nature. There are tons of activities to do that foodies, tech-savvy people and shopaholics will appreciate.
---
Cover photo credit: Instagram/@Seattle.city