Bridal hair: 10 hairstyle inspirations for the perfect wedding
Every bride wants to look and feel sensational on her wedding day. These 10 bridal hair ideas will complement any wedding dress and help you feel amazing.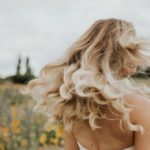 Once you get engaged and the wedding preparations are underway, seating arrangements, centrepieces, flowers, and of course, the dress, can take over your mind and make you forget about other details. Your makeup and hair, for instance, on your wedding day are as important as the music you choose or the type of champagne you serve esduring the toast. You want to look and feel great on your big day, especially since this moment will be forever immortalized with pictures and videos, which means the hairstyle you choose must bring you confidence and total joy. Get inspired by these 10 bridal hair ideas perfect for tying the knot!
Advertisements
Fishtail braid
Intricate, romantic, and totally chic, this fishtail braid is fit for a medieval princess. Veil-friendly, you can add a pretty hairpiece for added drama (and very Daenerys Targaryen-y), some baby's-breath or even pearls. We absolutely love the white lace piece of fabric that acts as the hair tie, especially since it matches perfectly with the wedding dress. If you are hiring a hairstylist or you have a talented friend helping you with your hair, then this is definitely a bridal hair option to bookmark.
Advertisements
Greek Goddess crown braid
Getting married in the summertime has many advantages like the warm sun and beautiful lush flora but it also can have some downsides like the dreaded humidity and heatwaves of late July and August. A braid crown will keep your hair out of your neck and thus keep you cool all day and night long. Don't pin all your hair back, keep a few flyaways to add a romantic touch to your Greek Goddess-inspired braid crown.
Advertisements
Sleek & chic
Not a fan of an up-do or intricate braid? Do not fret! No fuss sleek, shiny, smooth hair is always fashionable and will always be classy. Make sure you treat your hair to a few hydrating masks before the big day to make them extra shiny and healthy. Cut them a week or two before the wedding so you get rid of any split and dry ends.
Advertisements
Cascading waves
No hairpiece needed, this elaborated braided pinned back hairstyle looks both effortless and complex to the eye. Gorgeous with both short and long hair, this bridal hair idea will look especially great with women with highlights or a balayage since the hairstyle shows off the various shades of the hair. The wavy hair adds texture and volume to the hairstyle and will complement a simple dress to perfection.
Mystical bubble ponytail
A bubble ponytail adds some playfulness to a classic and traditional wedding dress. A fun detail that won't go unnoticed is the brown paper string used to replace the elastics as well as the knot at the top of the pony. A hairpiece is a modern accessory and a great replacement for a veil. A long, thick bubble ponytail looks exceptional with an open-back dress.
Tie the knot (with a bow)
A sophisticated hairstyle option for women with shorter hair, this upside down bun highlights your face and neck. This is definitely a hairstyle for the bride who wants to keep her hair back, out of her way but still give it some personality. The pretty white bow adds an Audrey Hepburn-approved touch.
Mermaid approved braids
A mix of the fishtail braid and the bubble ponytail, this style is for women who can't choose between the two. Lovely intricate details and baby's-breath create a romantic hairstyle that will have your guests gushing over you as well as some envious looks from a few. The hair and flower covered elastics really create an enchanting look worthy of a woodland princess.
Brigitte Bardot-inspired high ponytail
Easy, simple but oh so sexy, a Brigitte Bardot-inspired high ponytail with a big white bow is reminiscent of a 50s fashionista. The big bow cleverly replaces a dated veil and can elevate a simple silk wedding dress. Keep it effortless by letting a few strands loose near your hairline and under your ear. One thing to remember: Volume is key.
Unravel me braid
Having a beachfront wedding? Look no further for your bridal hairstyle. Part low ponytail and braid, this beach babe approved look will withstand the salty air and windy weather without making you look too put-together and serious. Boho brides who aren't worried about their hair staying put all night long will dance all night and turn this braided ponytail into sublime beach waves.
Stargazing waves
Forget about classic jewellery like a necklace and drop earrings. Make your hair take centre stage by turning it into your jewellery accessory par excellence. Stars, moons, lightning, snowflakes in silver or gold, choose your bejewelled hair accessories according to your preferences and go wild by adding them all over your gorgeous mane so they catch the light all day and night long. Created soft waves beforehand to add volume and texture but keep the rest of your hair simple so the spotlight stays on the hair jewellery.
With tons of bridal hair inspiration online and in magazines, it can often seem overwhelming to find one or two styles you really love. These 10 options are all beautiful but can be adapted for any style. Whether you choose to have your hair up or down, just remember that your wedding day is your day to shine and feel good about yourself. After all, there will be tons of pictures.
---
Cover photo credit: @christchurchweddings | Instagram