Interior Designs Fails Where Common Sense Went Out The Window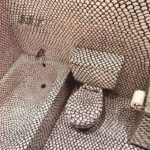 Advertisements
It's actually very difficult to look at this picture for more than a few seconds. Already, a few seconds are enough to give us a hell of a headache!
What was the purpose here, drawing with a Sharpie—we deduce that it's done by hand since it's very uneven—something looking like fish scales EVERYWHERE? It's a good thing the toilet paper roll didn't go through it too!
Advertisements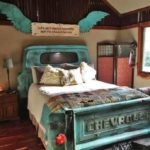 Advertisements
You know those cute little race car shaped beds for kids? It's cute, and any little boy dreams of having that kind of bed.
Clearly, this man has never had one, and it affects him greatly. So he decided to create his own adult bed out of a rusty old Chevy pickup truck. If we were him, we'd be careful not to catch tetanus during the night!
Advertisements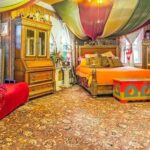 Advertisements
We would never be able to sleep in this room. There are way too many things to see, it's not a relaxing place at all!
The decoration makes us think of a fair. We can expect the arrival of a bearded woman or a fortune teller at any time.
Advertisements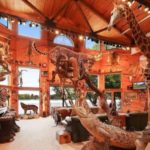 Advertisements
We have already seen, and often, houses with a deer or moose's head as a hunting trophy, among others. Nothing out of the ordinary for a hunter. This particular hunter, however, may have gone a little overboard on the trophy hunts.
Is this person a safari enthusiast? Did they hunt all these animals themself? This room is like a natural history museum!
Advertisements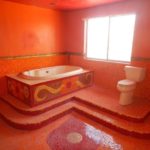 Advertisements
We are really trying to understand what went through this person's mind when tiling their entire bathroom with these red tiles.
Do they just really love the color red? How do they get out of the bathtub without slipping on the steps?
Advertisements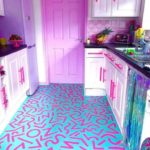 Advertisements
This kitchen literally came straight out of Barbie's Dream House. It really is the kitchen of your dreams!
Except it's not actually a dream, it's a nightmare. And you ended up here in Barbie's kitchen.
Advertisements
7

In Love With The Pattern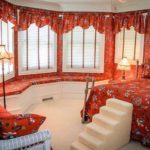 Advertisements
When you love a design, you want to see it everywhere, right? Well, this person stopped at nothing and covered her room with this orange floral pattern.
Everything is the same, whether it's the bed, the walls, the benches on the windowsill, the curtains or the cushions on the sofa.
Advertisements
8

After Dinner And A Show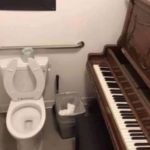 Advertisements
Who doesn't love dinner and a show? Some people pay big bucks for those kinds of things.
But with this bathroom, you get an after-dinner show. Do your business with the soothing sounds of classical music played live right next to you!
Advertisements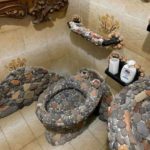 Advertisements
Some people love nature so much that they have to have it with them everywhere. Including their bathroom.
But more specifically, the rocks in nature. Want to sit on a bumpy toilet seat that's hard to clean? This is the bathroom for you!
Advertisements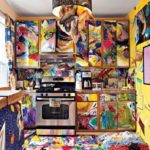 Advertisements
This kitchen makes us feel dizzy. And it gives us a slight desire to throw up. What kind of person can live in such a setting?
It is too much! Everything is too much! Why did they have to cover the cabinets, the walls, and the floor? And to add curtains and a light fixture as colorful as the rest?
Advertisements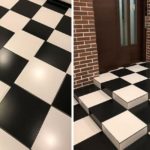 Advertisements
Mind games can help improve your cognitive function. So why not incorporate them into your house?
What could go wrong? You trip and fall and break something? Seems like a small risk to take.
Advertisements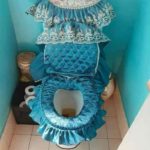 Advertisements
There's nothing too good for the queen of the house. There's no way she's going to relieve her bladder or bowels anywhere but on a respectable throne.
Not only is this blue frilly upholstery extremely ugly, but there's no way it's hygienic. We would never want to sit on this toilet.
Advertisements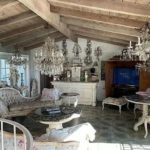 Advertisements
"Please, my love, just one more." "But we already have enough chandeliers!" "But one more, just to make it really really full… pleaaaaase!"
NO! It's hard enough to count how many chandeliers are in this room because there are so many. Sometimes, moderation is so much better.
Advertisements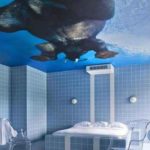 Advertisements
There's nothing quite as relaxing as watching animals in their natural habitat. You get to see them actually interacting with other animals.
Plan your next getaway to this relaxing room! You will get to experience animals doing what you've never seen before!
Advertisements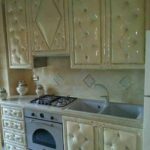 Advertisements
Cabinets are dangerous. The hard surfaces and sharp corners are just an accident waiting to happen.
Don't worry! You can just pad your kitchen like rooms in a psychiatric hospital! Plus, an added bonus is that it will be soundproof!
Advertisements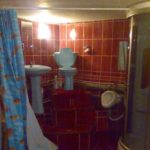 Advertisements
Who doesn't want to sit on the throne while sitting on a throne? With this setup, you're basically royalty.
It's time to live out your dreams of ruling a kingdom! Plus, you can close the curtain when you're tired of looking at peasants all day.
Advertisements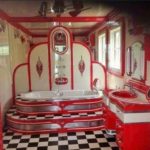 Advertisements
Let's go back in time to diners, carhops, and jukeboxes. The '50s really were an iconic era.
So iconic that this person wanted to recreate their favorite parts of it. Who doesn't want a '50s themed bathroom?
Advertisements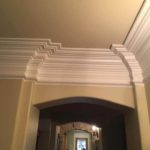 Advertisements
Crown molding definitely has a reputation of being overdone sometimes. But not here.
We think this molding is just perfect. The way it looks like it's just stacked on top of each other, and basically goes halfway down the wall, it's stunning.
Advertisements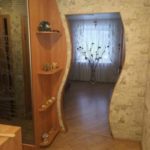 Advertisements
Don't be fooled, this isn't your average funhouse mirror. It actually isn't a mirror at all!
This door will play tricks on you, making you think that you're seeing things. It's a never-ending game.
Advertisements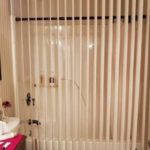 Advertisements
In this bathroom… You get a shower! And you get a shower! And you! Everyone gets a shower!
This shower curtain is strategically placed so that anyone who goes in can join in on the fun.
Advertisements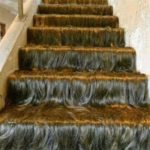 Advertisements
Rapunzel, Rapunzel! Let down your hair! When you see these stairs, the only explanation would be that Rapunzel herself was standing at the top of them.
Except she isn't, and it's just a staircase covered in hair. Do they brush it? Do they shampoo and condition it? So many questions.
Advertisements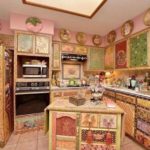 Advertisements
Are you tired of your children drawing on the walls? Do you want them to do something more productive with their time?
Just find some paint by numbers kits and decorate your kitchen with them! Your kids will love it!
Advertisements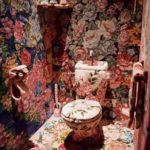 Advertisements
Bathroom surfaces are just way too hard. We understand why they're made that way, but couldn't they just be a little softer?
Be careful what you wish for, or you could end up with this nightmare of a bathroom. How do they clean it? If there's an accident, does the carpet even dry?
Advertisements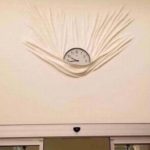 Advertisements
Trying to figure out where to place a nail when hanging up a clock is just way too difficult. So, they made it easy.
With this design, you can just set the clock inside of the warped wallpaper and never have to worry about finding your hammer and nails ever again!
Advertisements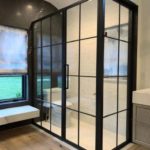 Advertisements
Have you ever met someone who was not shy about anything? They are constantly telling you every detail of their lives, whether you asked for it or not.
This bathroom is exactly what that over-sharing person would have in their home. They don't care, they put everything out in the open anyway.
Advertisements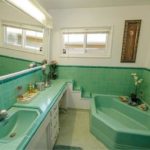 Advertisements
Remember in the '70s when everything was decorated with the most awful colors? This bathroom has brought back that awful detail of that decade. It looks like mint green just threw up everywhere.
Oh, and you can't forget about making a proper bathtub entrance with the tiled stairs off of the counter. Who doesn't want their relaxing night turned into an emergency room visit?
Advertisements
Advertisements
When you really love something, you try to incorporate it into everything that you can.
The walls, the floors, the bed… Nothing will be left out.
Advertisements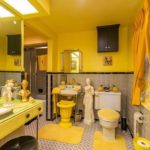 Advertisements
Looking at this picture makes our eyes and head hurt. There is too much to take in, and most importantly, it is way too yellow!
Was it necessary to paint the top of the walls yellow, put up yellow curtains, and then accessorize the room with almost only yellow objects? And are so many objects essential in a bathroom?
Advertisements
Advertisements
Who doesn't love getting out of the bath feeling clean? And who doesn't love the feel of grass between their toes?
Well, not actual grass. Just an extremely horrendous green carpet that very closely resembles grass. The perfect addition to any bathroom!
Advertisements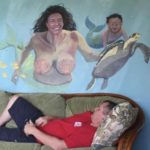 Advertisements
At one point or another, every little girl dreams about becoming a mermaid. I mean, they are literally obsessed with the idea.
Why not try to help your child's dreams come true? You can just create a real-life mural so they feel like they are living out their mermaid dreams!
Advertisements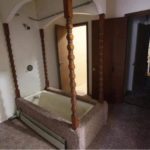 Advertisements
There is nothing that carpet cleaners love more than trying to get stains out of your carpets. Except when they get to clean the carpets around your bathtub… That's what they really love.
The carpet surrounding the bathtub and the wooden columns make it look quite interesting, to say the least.
Advertisements
Advertisements
Imagine having to explain to everyone who comes over that no, that is not poop smeared all over the counter. That is just the design.
Yes, we know it looks like poop, but I promise it's not. It's completely sanitary!
Advertisements
Advertisements
This bathroom is perfect for anyone who wants to have a mind-altering experience. There is so much going on here.
Plus, your "business" gets to have that same experience!
Advertisements
Advertisements
What's better than waking up in a hurry and accidentally poking yourself in the face with your wall decor? Nothing!
That's what this person thought when they put this over their bed, obviously.
Advertisements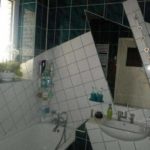 Advertisements
Sometimes you have to work with what you have. Even if it doesn't look the best.
Which is exactly what happened here, or what we'd like to think happened. Because who would intentionally make their tiles look this disorganized?
Advertisements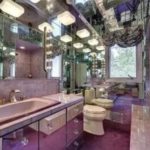 Advertisements
Want to use the restroom looking at every inch of your body in extremely awkward positions? This is the bathroom for you!
We know that everyone has a mirror in their bathroom, but this is a little too much.
Advertisements
37

The DIY Of Your Nightmares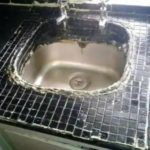 Advertisements
When you have a project that needs to be done, you just do it yourself!
If the tiles don't match the color of the countertop, just color them in! Who cares if they don't match exactly, at least it's done.
Advertisements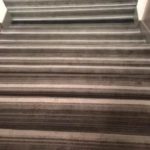 Advertisements
Are you trying to make life a little bit more entertaining? Just install striped carpet to hide your stairs and life will get a whole lot better!
If you want to make things more interesting, don't tell anyone there are stairs there and let them find out on their own!
Advertisements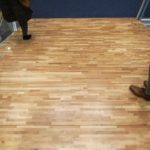 Advertisements
At the first look, this floor just looks like there was hardwood installed. But if you look closer, you can see the hardwood is actually on top of a flight of stairs.
Not only can hardwood be slick, but with the added surprise of stairs, it's just a disaster waiting to happen!
Advertisements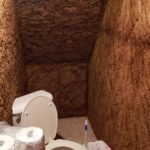 Advertisements
This bathroom makes us feel somewhat uncomfortable. Whose idea was it to cover the walls and ceiling with brown carpet?
We feel like we're in a cave lined with what should only be in the toilet…
Advertisements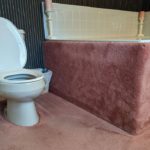 Advertisements
Pink carpeting that runs up the sides of the bath, a lined black wall, cream-colored tile and two vintage chandeliers.
That's a lot to take in at once! Not the most relaxing room to take a bath, let's say it like that.
Advertisements
42

Master Bedroom From Another Era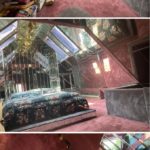 Advertisements
We are without words in front of this ignoble master bedroom. Apparently, the rest of the house is very normal, but the owners have definitely let themselves go wild in this room.
Between the excessive amount of mirrors, the pink carpet, the flowery bed, and the black furnishes in the bathroom, we can't decide which is worse.
Advertisements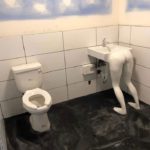 Advertisements
We know it's important to wash our hands after using the bathroom, but we could NEVER wash our hands at that sink. Just no.
This is one of the creepiest things we've ever had the chance to see. Who came up with this ridiculous and very tasteless idea?
Advertisements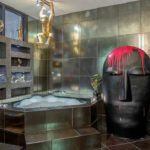 Advertisements
The bathroom itself is decorated out of the ordinary, but despite the metallic-style tiles, if it were just that, it would be acceptable.
But what's up with that gold monkey statue hanging from the light fixture and that big black head with a dripping pink paint stain on top? That's not art, that's a disgrace.
Advertisements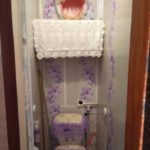 Advertisements
Quickly, it looks like the bathroom of a 4-year-old girl who loves the color purple and frills too much.
When we notice the—purple!—shark's head sticking out of the wall above the toilet, however, we're not sure of anything anymore. But what is this?
Advertisements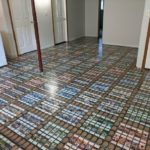 Advertisements
Ok, let's be honest: at first glance, this floor is kind of cool, even if the colors are a little strange for a floor. The pattern is still interesting!
When you take a closer look, however, and notice that the pattern is created with hundreds of Magic cards, you start to judge the person who created it a bit.
Advertisements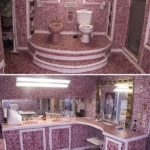 Advertisements
Do you like pink? But, like, really? Because the person who lives there likes pink a LOT. A little too much, even.
This person loves pink so much that not only does she have a pink toilet and sinks, but she thought it would be a good idea to cover her entire bathroom, from floor to ceiling, with small ceramic tiles in different shades of pink and purple.
Advertisements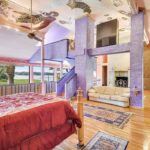 Advertisements
Our first impression of this room is that the purple walls, the bottom of the walls covered with a lined tapestry and the pink top of the walls do not work well together.
And then, we look at the ceiling of this room and we wonder if a child has not had carte blanche to reproduce in his way the ceiling of the Sistine Chapel. Everything in there is ugly.
Advertisements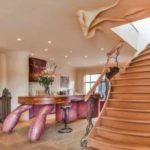 Advertisements
We couldn't really say why, but this room makes us very uncomfortable. We couldn't stay there.
Maybe it's because of the two strange pink legs that support the counter, or maybe it's because of the strange relief on the ceiling on the side of the stairs.
Advertisements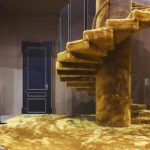 Advertisements
Either the person who lives there owns dozens of cats, or it is a close-up of a small cat house. In any case, cats must be involved here.
There is no reason why a person would have decided to cover the floor and stairs of their house with this type of carpet if not to please the cats, right? We can't believe they could actually like it.
Advertisements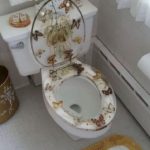 Advertisements
Who doesn't like butterflies? They are generally beautiful, and they are potentially the least obnoxious insects there are!
However, we like them in the wild, not on our toilet seat. We'd be a little uncomfortable sitting on that toilet.
Advertisements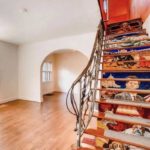 Advertisements
This is not the first time we have seen a staircase painted in this way. In general, it is a fresco a little more sober, representing books, for example, or words.
The owners of this house, however, went for something much more colorful and eclectic. We are not convinced by their choice.
Advertisements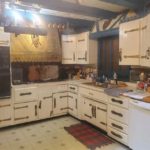 Advertisements
The person who renovated their kitchen in this way is either a history teacher specializing in the Middle Ages or a geek who is a fan of live action role-playing games.
If at least the hinges had been put straight on the cabinet doors and the accessories didn't look so cheap… but no, besides being ugly, it's badly done.
Advertisements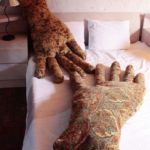 Advertisements
Oh, no! No one is going to convince us to sleep in a bed with two big hand-shaped pillows. It's way too weird!
There's something creepy and uncomfortable about these pillows. Whose idea was this? Does anyone really sleep with two big hands next to them?
Advertisements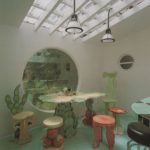 Advertisements
There are people who like to eat vegetables, people who just like vegetables, and there are those people who live only for vegetables. To the point of making it the theme of their kitchen.
This kitchen is like eating from a big salad, humans being like the protein that completes it. Ugh, creepy. For a children's playroom, it would be acceptable. For a kitchen, it's not.
Advertisements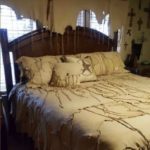 Advertisements
We are not going to lie, this room gives us goosebumps. The bed and the curtains, with their torn and patched look, do not give us confidence.
But that's without mentioning the very large number of crosses on the wall. This room can only belong to an extreme fanatic, with this amount of crosses, right?
Advertisements
57

Welcome In The Universe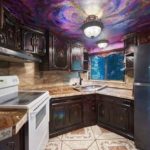 Advertisements
Everything in this room puts us off. First of all, the floor tiles are a little too fancy for us. And what can we say about the old-fashioned and dark cabinets? Not to mention the countertop, which is not so nice either.
But the cherry on top is definitely the ceiling, painted to look like a close-up of the universe or something like that. Honestly, it makes us feel sick.
Advertisements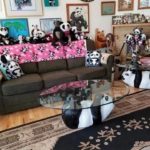 Advertisements
Although pandas are rather aggressive animals, they still are the cutest, and this person definitely agrees with us.
From pillows to blankets to stuffed animals, picture frames and even the tables, there's no doubt about this person's love for pandas.
Advertisements
59

Straight Out Of Game Of Thrones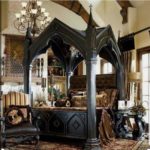 Advertisements
This room seems to come straight out of medieval times. We could easily see it appear in Game of Thrones!
Still, this room is very intimidating. We would not be too comfortable to spend the night there.
Advertisements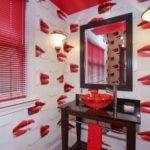 Advertisements
This bathroom is very original. We don't know what we like less: the sink, the red ceiling, the red blinds or the wallpaper?
The lip-filled wallpaper is potentially the worst. There's a difference between liking red too much and surrounding yourself with women's lips.
Advertisements