The Weirdest Posts That You Will See On Facebook Marketplace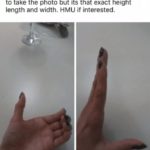 Advertisements
Selling my phone! But, I don't have a way to take pictures of it, because I'm using it. You understand, I don't have a new device to take a picture of my cell phone with yet. So, here's how big it is when it's in my hand. That's enough, right?
It's a little difficult to sell something when you use it every day and have no way of taking a picture of it. Do they have a way to get another phone, though? Are they prepared to have no way to contact anyone? So many questions!
Advertisements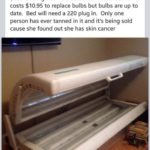 Advertisements
A tanning bed for sale! Have you ever dreamed of owning your own tanning bed so you don't have to go to a salon to get the perfect tan? What's more, the light bulbs are up to date and cheap to replace. What a bargain! Don't think about it any further!
This tanning bed is only for sale, now, because the person who had it developed skin cancer after using it. It's completely safe, though, no worries. It certainly wasn't this particular tanning bed that could have caused so much damage to this person.
Advertisements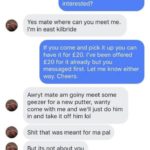 Advertisements
When you find an interesting item on sale on Facebook Marketplace, but you don't plan on actually paying for it—because paying is so overrated, you know—just call up your friends! They will certainly be pretty glad to help you!
But if you ever are in this particular situation, please make sure you message your friends and not the person selling the item you're planning to steal from them. Or, you know what? Better yet—just pay for it. Everyone wins.
Advertisements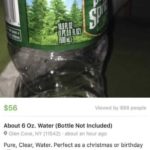 Advertisements
You might be wondering where you can buy a bottle of water. After all, water is necessary for human survival, so always make sure you stay well hydrated! And, you know, tap water, accessible from certain rooms right in your home, well, that's not an option.
So, if you're looking for water, why not get it from this guy on Marketplace? But don't get the wrong idea, here. This guy is only selling the water that is in the bottle; the plastic bottle itself is not included in that $56 deal. So, bring your own water bottle, please.
Advertisements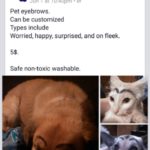 Advertisements
Tired of looking at your pet's face and you can't tell their expression? We understand you. It can be tiring, in the long run, not to know exactly what your animal is thinking. But to remedy this unfortunate situation, just hire this person to make an expression for them!
Well, okay, the downside of this solution is that your pet will have only one expression, so make sure you choose the one that really suits you. But if you choose a good expression, your pet is guaranteed to love it too, so it's a win-win!
Advertisements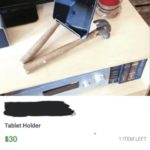 Advertisements
Do you ever get frustrated trying to watch a movie on your tablet because it won't stand up? What could be more annoying than having to constantly put your tablet back up, or having to hold it all the time, to make sure you are never distracted during your movie?
Well, here's your solution. You absolutely need this tablet stand! It's the perfect way for your tablet to stand upright without ever needing to hold it gain. Plus, it doubles as decor! And this person only ark $30 for it. You'd be a fool to miss such a bargain!
Advertisements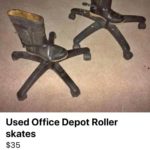 Advertisements
Is anyone interested in purchasing some home made roller skates? After all, roller skates are so much fun, you would surely have a great time! They are slightly used, though, but they still work just fine, we are absolutely sure of it!
I bet they would give you a good deal for these bad boys. And even at $35, they are still much cheaper than if you bought real new roller skates in a store. Just lace 'em up and you're ready to go! Be careful to skate with your legs slightly apart, though.
Advertisements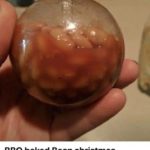 Advertisements
Christmas is right around the corner, and it's better to start preparing now! It's never too early to start thinking about our Christmas decorations, especially if you want to get new ones. With this in mind, why not purchase these one-of-a-kind ornaments?
With these BBQ baked Bean Christmas ornaments, you will be sure to have absolutely unique decorations that are quite original, too! And don't worry, they could rot on the inside and make your entire house stink, but you'd earn points for standing out! Even if it's a horrible idea.
Advertisements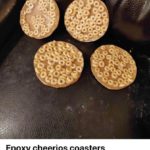 Advertisements
Stop leaving worrying about your tables getting rings on them and purchase these coasters! Your guests will absolutely love them, no doubt about that! They're so unique and will stop any rings from forming on your tables!
Plus, the seller lowered the price by $10, which is a real bargain! If you're having kids over, though, be sure to supervise them at all times. Who knows when one of them will crave a bite of Cheerios seasoned with a bit of epoxy?
Advertisements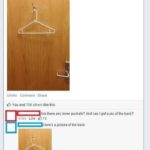 Advertisements
We all know about the green or brown kind of camouflage clothing, but obviously we've been fooled all this time! Indeed, this person is selling a real camouflage jacket on Marketplace, which obviously fits all environments, even faux wood doors!
That is so incredible! Just what I've been looking for! When you wear this one-a-kink camouflage jacket, absolutely no one will be able to see you, no matter where you are. You can now do anything you've ever wanted without anyone noticing!
Advertisements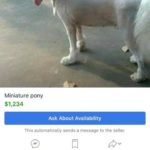 Advertisements
Here is a pony for sale! Don't you have a daughter or niece who dreams more than anything in the world of having a cute pony in her yard so she can take care of it and ride on its back from time to time? Well, here's your chance!
This pony is a little smaller than normal, and it sometimes barks, but no worries, that's only because he's bilingual. You will never find better than this pony since it is obviously more intelligent than the average. This is a very special pony!
Advertisements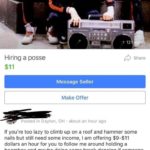 Advertisements
Someone is looking for a posse! Here is your chance to shine! You must be cool, and you must be willing to learn how to rap and dance. You also need to wear a tracksuit that you need to own. But apart from that, there are no qualifications required!
I'm not gonna lie, this seems like a pretty good deal. Despite the few requirements mentioned in the job offer on Marketplace, it still seems pretty well-paid for not having to do much. I wonder if anyone actually took the offer?
Advertisements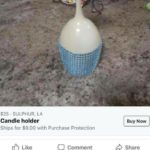 Advertisements
No, this is absolutely not a wine glass turned upside down, as suspected by this not-so-clever person who commented on the ad. Seriously, come on! This is a candle holder, that seems pretty obvious. It clearly holds candles and not wine.
I know that do-it-yourself projects are all the rage these days, but most people won't be willing to buy someone's homemade crafts when it's cheaper to just do it themselves. Even if it is a multi-use item. $25 for this is an exaggeration!
Advertisements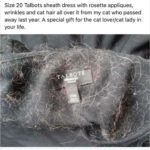 Advertisements
Anyone who owns a cat—or a dog, or any other furry animal—knows that it is impossible to have clothes that are not full of pet hair. But instead of taking the time to properly clean her dress before selling it, this woman decided to play it smart instead. You are looking for the perfect gift to get the cat lover in your life? Well, look no further!
This dress is exactly what you need. It already comes with its own cat hair—what's better than that? The person receiving this dress will not have to go through the inevitable post-purchase stage, which involves being able to admire their new piece of clothing for only a few seconds before it gets hairy forever.
Advertisements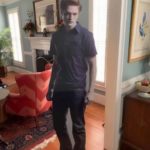 Advertisements
If you are a fan of Twilight, you have definitely thought about getting a lifesize cutout of your favorite character. No need to deny it, we know it. And if your favorite character happens to be the handsome Edward Cullen, well, now is your chance!
Buy this life-size cardboard cutout of the popular vampire, it's in pretty good shape, and it's only slightly used. I'm not even sure what that means, though. Used for what? How? Perhaps all this is not very hygienic, after all. I advise you to inform yourself to the seller before buying it, just in case.
Advertisements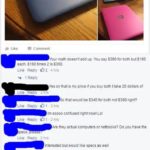 Advertisements
This guy is selling two laptops for $380 and one for only $180? That sounds like a pretty good deal, don't you think? Until you realize that they're asking for more money to buy two instead of making the package cheaper, as it is generally the case.
But don't worry! The poor guy is not very good at mathematics, but he finally realized the mistake he first made. Now, you can buy both computers for $360 and one for $160. Wow! This person's math skills are impressive, but in a negative sense.
Advertisements
Advertisements
It's inevitable, EVERY time someone sells an item on Marketplace, someone a little shady or nasty contacts them. Here, someone really wants to purchase this TV, but they somehow don't understand what this person is saying.
But honestly, the person selling this TV could make an effort. I mean, come on, stop wasting this potential buyer's time, please. It's not a way to treat people, it's not polite. They just want the TV, so sell them that TV you no longer have, please!
Advertisements
Advertisements
Facebook Marketplace is full of people making some kind of mistake. Or simply full of some pretty weird people; it depends on your point of view, I guess. But a good example of this kind of people is this one, accidentally asking if something is still available.
Honestly, who would even ask that? Why would they think they're interested when, clearly, they are not? That is just too weird. No one asks if an item is still available if they have no intention of potentially considering buying it. It just doesn't make sense!
Advertisements
Advertisements
Stuck in a negotiation? Sometimes you simply have to use your imagination and creativity to achieve your goals. Just go in with a slightly lower price and throw in a 10-piece McNuggets! After all, everyone loves free chicken nuggets.
Whoever this person is, wherever they are, I hope they enjoyed those nuggets. It seemed worth it. And if I were in that buyer's shoes, I couldn't refuse that offer either. It's way too fun and perfect to disappoint the seller! And while I'm at it, I would have bought some McNuggets for myself, too!
Advertisements
Advertisements
Obviously, you would ask for the dimensions of an item when you are interested in purchasing it. Especially when it is an appliance that costs a certain amount of money. After all, it would be a shame to buy a refrigerator that doesn't fit in your home!
Except for when the person selling the item doesn't speak Spanish. What a bummer. In this situation, there is not much to do. Unless you are able to translate your message into English so that they understand what you are asking for?
Advertisements
Advertisements
You can find everything on Marketplace, and when I say everything, I really mean EVERYTHING! Who doesn't need a pile of babies? Not real babies, obviously. Just these tiny plastic ones. There are so many uses for them, I don't even know where to start!
Plus, they have barely been used and they come with a travel case. Score! Don't miss out on this incredible offer! Where else are you going to find your small plastic babies when you realize you really need them? Mmm? That's what I thought.
Advertisements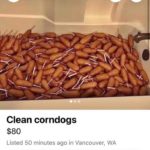 Advertisements
If you feel like eating corn dogs, there's no need to go to the grocery store and pay a dozen dollars for just a rather small box of POGO®. Instead, get your corn dogs here! Fresh, a little soggy, and ready to devour! They're even clean! What more could you ask for?
I understand wanting your food to be clean. It's never good to ingest foods that might be full of bacteria, but this? Cleaning a huge quantity of corn dogs in a bath? I'm pretty sure that it is absolutely NOT the way to do it. But I may be wrong, of course.
Advertisements
Advertisements
There is definitively something wrong with this conversation. Clearly, there is some problem of understanding between these two people."Yeah, I want to purchase this, please. Just give me a minute to put my kids down first."
Should someone tell the poor guy? Or do you think he has realized his mistake by now? We wish these two people that the conversation became clearer afterwards, because all this could quickly become rather awkward.
Advertisements
Advertisements
This person is just selling their AirPods, and they claim that they are in perfect condition. They have barely been used and they work really great! The sound is good and all. They even come with the charging case. Let's make a deal, shall we?
This like-new pair of AirPods seems indeed to be in perfect condition, besides the fact that there is earwax from a complete stranger deeply wedged into the auditory canal. But for only $100 and a little deep cleaning, you have a pair of AirPods. If you are not disdainful, that seems like a good deal.
Advertisements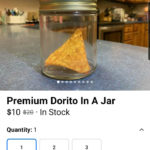 Advertisements
Looking for a light snack? For something a little bit crunchy? Why don't you purchase this single Premiun Doritos in a jar? If you're feeling a little wild, you can even buy more than one! That is so incredibly exciting, don't you agree?
By purchasing this, you won't have to give in to the urge to eat an entire bag of Doritos, since there is only one chip. And what's more, it's a bargain! The seller has lowered the price by 50%. What are you waiting for? 4508 shoppers have already saved this ad, stocks could be going fast. Go ahead and treat yourself while you can!
Advertisements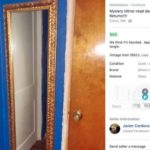 Advertisements
Everyone needs a mirror in their home. After all, not a day goes by that we don't need it, whether it's for a beauty makeover or to see if our outfit of the day is on point. What's more, it opens up the space and adds to the style!
Plus, this particular mirror for sale on Marketplace has wonderful detailing. It might be a little haunted, though, but just keep your Bible on hand and everything should be absolutely fine. That will certainly do the work. Right?
Advertisements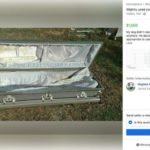 Advertisements
There is a coffin for sale! Weren't you just looking for one, even if it's only to use it in a couple of years? After all, it's always better to be prepared for this kind of thing. It's slightly used, but it wasn't for long. It's still in great condition and will last for a long time!
We know how much coffins sell for. It's usually pretty expensive, so it's probably a lot cheaper than the market price, but it doesn't seem ethical to use a coffin that already had been in the ground with someone else in it. Even if this someone was a dog. But, hey! What a deal.
Advertisements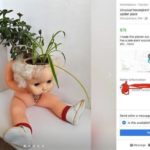 Advertisements
Want to spice up your living space with a few plants, but you don't like too traditional and common accessories? Then why not use this cute little planter to add to the ambiance? It is certain that no one else will have such a houseplant planter in their home. You will be unique!
Even the person who shared this ad defined it as "unusual". Okay, we know that it looks like it came straight from Toy Story and might come alive during the night, but what else would your plants go in? It's not like you have much of a choice, you know.
Advertisements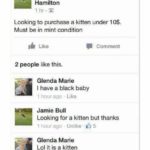 Advertisements
Everything about this post is just so off, from "purchasing" a cat on Facebook to saying it must be in "mint" condition. What other condition could a cat be in? Whatever, never mind, I don't want to know. Let's just say that this lady does not want a cat that is not in perfect health.
But what is also extremely funny in that ad are the replies. When replying to someone's ad, you should be more clear than this person, but Glenda Marie didn't understand that, obviously. You never know what some people might assume, and Jamie Bull seems to have a bit of a crooked mind.
Advertisements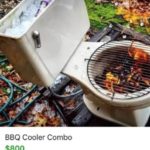 Advertisements
You can't go camping without a grill and a cooler. It is literally the basis. If you don't have at least these two accessories—in addition to your tent, of course—your experience probably won't be very memorable. So, why not combine the two?
This way, you won't forget to bring them both, and you'll have an awesome camping experience! And what is even more interesting with this ingenious BBQ Cooler combo is that you can use the bowl of the grill once you're done eating! At this point, it's almost glamping!
Advertisements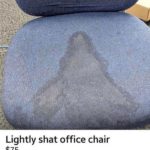 Advertisements
You can't go wrong with a good office chair. It's important that you choose an ergonomic chair that helps with the comfort and productivity of your work. But office chairs can be very expensive, depending on the brand.
So, why not try to find a used one? It seems like the best option, so you don't have to break the bank. You might even find one like this! Who cares if the previous owner may have had an accident while sitting on it? It's only $75. That's a steal if we do say so.
Advertisements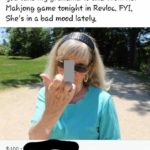 Advertisements
You do not get to choose your family, but you can choose who drives them around. We have all felt frustrated or annoyed by a family member at one point or another, and when they ask you to do something for them, you probably won't always jump at the chance.
So, instead, you offer someone else 100 dollars in cash to do it for you. But you want to be straightforward, so you make sure to let them know that she has been in a bad mood lately. If you pick up this grandma, hopefully, you don't do anything to make her angry.
Advertisements
33

New Air Conditioning Unit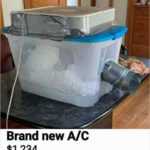 Advertisements
If you live in the south, you know how rough the heat can be. You will do whatever you can to cool yourself down, as difficult as that may be. When you are left with no other options, you realize that you will need to make your own solution.
You might even consider selling that new solution to others who are in need. You decide to sell your air conditioning unit for 200 dollars. Maybe someone else will get the opportunity to enjoy it on those hot summer days.
Advertisements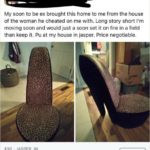 Advertisements
One of the worst feelings in the world is finding out that your significant other has cheated on you. Many people feel completely shattered, devastated, and heartbroken when that happens, but others will try to get their own revenge.
In this case, she is actually benefiting from her revenge. If her ex is going to bring something home from his mistress's house, she is going to sell it. Or she will set it on fire, whichever comes first. Either way, she is winning the situation.
Advertisements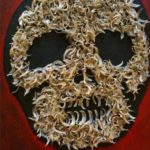 Advertisements
People will spend a fortune on custom art. It doesn't always matter how well known the artist is, as long as the piece is unique. People are always searching for something new and different, and this artist took advantage of that.
This piece of art is definitely unique, to say the least. Although, it probably is not something that people want to spend money on. It is actually sort of gross. But you never know, there are some weirdos out there who might purchase it.
Advertisements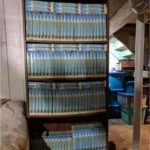 Advertisements
Do not even ask, because the Shrek movies will not come with this bookshelf. We know, who wants a bookshelf without the movie to go along with it? That is literally the entire point of this item, you can't have one without the other.
Plus, they could probably stand to get rid of a few. What are they doing with that many movies? Are they a limited edition? Anyway, the bookshelf is 200 dollars. So, if you do choose to purchase this item, you can start your own Shrek collection.
Advertisements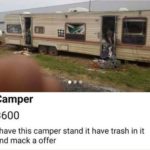 Advertisements
What a deal! Only 600 dollars for a camper filled with trash? Who could pass that up? The trash is literally falling out of this camper. Was someone living in this filth? Or was this just some kind of dumping ground for someone?
Maybe that is why they are selling this camper. Instead of them having to clean it out and fix it up, they figured that they would just pass off that obligation to someone else. And who knows, maybe someone thinks that this camper is worth it.
Advertisements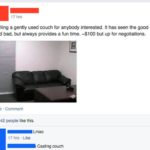 Advertisements
In the market for a new couch? Well, look no further! Your new (gently used) couch is right here! According to this listing, "it has seen the good and the bad, but always provides a fun time." It is also priced quite fairly at only 100 dollars.
But you might want to take a closer look at it before you decide to bring it home. Yes, it "provides a fun time," but what kind of "fun" are they talking about? We can't be too sure, but we don't think it's the family-friendly sort of fun that you would want it to be.
Advertisements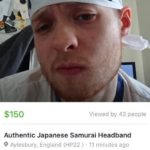 Advertisements
First of all, good luck trying to buy this headband if you aren't a samurai. This is only for the finest samurai in the land. Plus, it gives you unrivaled samurai honor. What could be better than that? Only the price comes even close.
He is selling it for only 150 dollars. The sweat on it from this guy's forehead is free, though. It's authentic, too. You wouldn't want to be walking around with a fake headband, would you? You can live out your wildest dreams with this!
Advertisements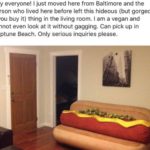 Advertisements
Haven't you always wanted your own hotdog couch? It is such an amazing conversation piece. You will be the life of the party with this thing. So, now is your chance to buy it for yourself for only 500 bucks. That's a bargain!
We promise you won't find anything like this on another selling platform; this is one of a kind. Not only would you be doing yourself a favor, but you would also be doing this person a favor. You see, they are a vegan. Just the mere sight of this couch makes them sick.
Advertisements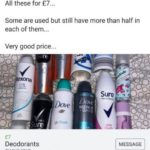 Advertisements
You can never go wrong with a good deodorant. What would you rather smell like, fresh linen or ocean breeze? No matter what scent you choose, it is better than smelling bad. We all know that. But deodorant can get expensive.
Deodorants can get even more pricey when you decide to go the natural route. Instead, you can get 11 cans of deodorant from this person for a very low price. Sure, they have already been used, but they are clean, right?
Advertisements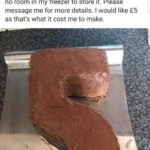 Advertisements
Parents everywhere tend to scramble when their children's birthday is approaching. When you are a child, your birthday is a huge deal. You want the biggest bounce house and the best face painter. So, as a parent, you might get overwhelmed with all of the festivities and forget about the cake.
But not to worry. There is one already made and ready to go for you! Just make sure that the child is actually turning five years old, because this person just happened to forget. You wouldn't want everyone to show up and the cake to ruin the entire part.
Advertisements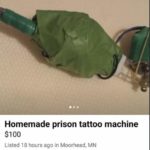 Advertisements
Tattoos can be a pretty hefty investment. This makes sense knowing that this piece of art will be on your body for the rest of your life. You should not regret your tattoo, and sometimes trusting a stranger can be difficult for some people. So, instead of putting your tattoo in the hands of an artist you don't know, you can tattoo yourself with this homemade machine.
It is only 100 dollars, which is a fraction of the price of going to a tattoo shop. They said it is what they use in prison, too. What could be better than that? You can tattoo yourself the same way that people in prison do.
Advertisements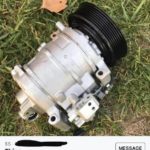 Advertisements
Contemplating buying this thing? There are so many possibilities for the use of it! Don't exactly know what it is? That is okay, neither does the seller. But that doesn't matter! All you need to know is that it only cost 5 dollars.
For this price, it doesn't matter what it is. It's cheap! Why wouldn't you want it for that price? Plus, you never know how much this thing could actually be worth. You might get lucky and find out that it's worth hundreds of dollars. You should definitely risk it.
Advertisements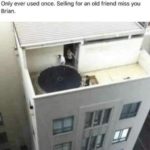 Advertisements
Trampolines always provide a good time. Well, not always. Definitely not for the case of Brian. But Brian's friend is very sorry and misses him dearly, but he still has to make some money. So, he is selling the trampoline that his friend may or may not have died because of.
Who puts a trampoline on a rooftop, anyway? Clearly, that is an accident waiting to happen. So, if you purchase this trampoline, don't be like Brian and put it this close to the edge of a tall building. You probably shouldn't put it on a rooftop at all.
Advertisements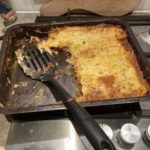 Advertisements
Are you hungry? Then this is for you! Yes, it is already half-eaten, but that is okay. If you are really hungry, you would not care if someone has eaten some of it or not. You would eat it. Plus, they said it should last until the end of the week.
Who doesn't want a good home-cooked meal that a stranger has already consumed half of? You would be crazy to pass it up. It's basically a potluck, except you aren't bringing anything to share, and this is the only option you have to choose from.
Advertisements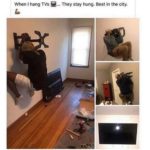 Advertisements
We all know how hard it can be to hang a television. I mean, they are heavy, unstable, and could possibly fall straight to the ground. This guy is ready to help! He is the best in the city, the listing says so! When he hangs up TVs, they stay up!
Who wouldn't want his help? All the proof you need is right here in the photos. He is hanging from them himself, and he likely weighs more than an actual television does. So, make it easy on yourself and go ahead and hire him.
Advertisements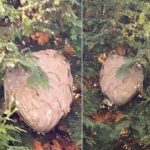 Advertisements
Maybe you are curious about wasps and hornets. Well, you can further that curiosity right here. And they are alive! All you need to do is take it down yourself. Oh, but you are the one who must pay to take it down. 300 dollars, that is.
It is quite a steal if we do say so ourselves. What could go wrong here? Maybe you get stung a couple of times, but you are tough. You can handle a little pain for the sake of science. Well, maybe it might be more than that, but we believe in you!
Advertisements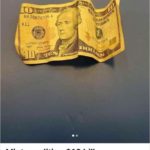 Advertisements
Who doesn't love money? Money makes the world go round, and you need money for virtually everything in life. You can't survive without it. So, just like this guy, you try to make some money of your own by selling your things.
But we don't think this listing is exactly accurate. This 10-dollar bill is not in "mint condition" as the seller has stated. It's pretty wrinkled and folded up. It's not likely that someone is going to spend more money on this than it's actually worth.
Advertisements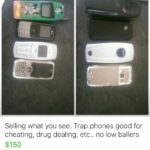 Advertisements
Everyone needs a reliable burner phone. Well, maybe not everyone. But many people do. This person has exactly what you need. They may not be high-tech, but they will get the job done. No matter what job that is, these phones are reliable.
Need a burner phone for cheating? Done, your significant other will never know. There will not be proof on your main phone, only the burner phone. So it is like it never even happened. He's really trying to help you out here, just go for it.
Advertisements