Healthy dinner ideas or how to end the day on a good meal
A dinner that's tasty and wholesome sounds like an oxymoron? Have a look at these deliciously healthy dinner ideas.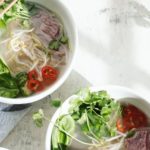 After breakfast and lunch, you are ready to take your nutritious revolution all the way to the last and often heaviest meal of the day? We got you. These delicious and healthy dinner ideas will let you go to bed feeling satiated, content and satisfied while allowing you to treat your body to the best possible fuel. Always delectable, often colourful, sometimes unusual, this part original part reinvented classic recipe selection might very well become a night time meal go-to.
Advertisements
Flaky cod with celery salad

Yup, white fish, famously healthy and notoriously boring. But not this one ladies and gentlemen. Bon Appetit Magazine and Andy Baraghani are here to forever change your mind about cod and its sad reputation. And while they are at it, they'll even change your heart about its dull-health-land brother celery which gives the recipe a nice touch of crunch.

Advertisements
Turkey Tacos
This one is a guaranteed success among the whole family. Tex Mex never fails and this improved version tastes nothing like what is actually is: a light and healthified version of an all-time classic and household favourite. And if you are looking to reduce your consumption of refined carbs, sub tortillas for lettuce leaves.
Advertisements
Plantain black bean enchilada bake
This Minimalist Baker number is a mouthful and we are not just talking about its name. Original, filling and a touch exotic, it's the perfect dish to satisfy serious hunger. And if you think this smoky, hearty, savoury-sweet meal dish is going to cost you a fortune to make, think again. All you need is 10 ingredients and 30 minutes of prepping to make this sunny dish come to life.
Advertisements
Pho
Most likely, you're a pho fan, and most likely, you've never made it at home. Because, most likely, you thought it would be long, difficult and far from as good as your favourite takeout spot. Most likely, you are wrong. Let's face it, we'll never stop going to the restaurant for some authentic pho, but a homemade revisited version with lemongrass, basil, ginger, garlic, jalapenos, cilantro, bok choy, miso, lime, rice noodles, bean sprouts, sweet peppers and steak is certain to hit the spot.
Haloumi salad
Yes, a salad, but not just any kind. Because some hot summer nights call for something fresh and light, but also delicious and satiating. This far-from-boring mix features fresh crispy summer veggies, flavourful herbs and some delicious grilled halloumi to create what might just be the perfect salad. We did not invent it, so we can say it.
Spicy tahini noodles with asparagus
Noodles are not the devil, people. They can perfectly be part of a healthy diet. At least this recipe can. And thank God because it is absolutely amazing. Even better, it's a total time saver. Perfect for busy weeknights, this spicy tahini noodles recipe can be done in 20 minutes from start to finish. Asparagus are not in season? You can easily switch them up with any roasted veggies of your liking.
Squash and lentil curry
No one can argue that cooking healthy is difficult when there is curry involved. Hell, no one can argue that eating healthy is tasteless when there is curry. And this one is no exception. Serve this vegan number with rice and some greens for a complete, filling and tasty meal year-round.
Shrimp and vegetable stir fry
Add some serious colour into your dinnertime with this fresh, light, crispy and full of flavour recipe. This healthy shrimp and vegetable stir fry is an absolute weeknight saviour that allows you to have dinner on the table in 15 minutes and have it be delectable. Serve it as is or over rice or noodles.
Smoky cauliflower hash with eggs
Get off the beaten tracks with this quick and original meal. Some might want to call it breakfast, but we beg to differ. This cauliflower hash is not only nutrient-packed but also bursting with flavours and such a meal is fit for any time of the day. Don't sweat the small stuff and enjoy your hash and egg for supper.
Loaded sweet potato
Sweet potatoes have a reputation when it comes to whole foods. And the last thing we would do is take away its wholesome crown. So as a last but not least healthy dinner recipe, we present you the king of hearty meals, the loaded sweet potato. Far from being a Sunday-night-so-you-can-spend-the-whole-afternoon-cooking type of dish, this seriously, nutritious, filling and tasty recipe can be adapted to every taste and ready in minutes.
Treating yourself from time to time after switching to a whole food diet will remain a thing. But with these healthy dinner ideas, it might very well take on another meaning, such as eating out for example, because these recipes will make every supper will feel—and taste—like a cheat meal.
---
Cover credit: @designlovefest | Instagram