Spotify: 10 excellent Christmas playlists for your holiday parties
Want to listen to Christmas music on Spotify? Here is a selection of playlists perfect to put you in the holiday mood!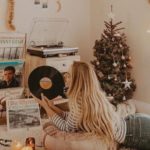 When the first snowflakes start to fall during the month of November, we start to look forward to the holiday season and the time off from work that goes with that time of year! Some people take out their Christmas trees and their many decorations while others start making gingerbread cookies in an abusive way until December 25th. Others simply decide, as soon as the first snow falls, to binge watch Christmas movies or to get into the holiday mood with Christmas music. It is indeed possible to listen to Christmas music for hours on Spotify. Whether you like rock, pop or classics, here are some playlists that may make you happy and keep you patiently waiting for December 25th to arrive.
Advertisements
Christmas Classics
For you, the holiday season and all that surrounds the celebrations of this festive period should stay traditional? The Christmas Classics playlist is perfect for you then! You will find tracks that probably marked your childhood and adolescence, such as Bobby Helms' Jingle Bell Rock, Andy Williams' It's The Most Wonderful Time of the Year and Let It Snow! Let It Snow! Let It Snow! by Frank Sinatra. It is, without a doubt, a playlist to listen to by the fireside with a delicious hot chocolate in hand and the people you love the most around you.
Advertisements
Christmas Favourites
The Christmas Favourites playlist invites you to discover, just like the Christmas Classics playlist, not only vintage songs but also Christmas songs sung by contemporary artists. In fact, you can hear Elvis Presley, Johnny Cash, Coldplay, Ella Fitzgerald and Michael Bublé share the spotlight on this playlist. It is probably this audacious mix of artists that makes more than 145,000 people subscribe to the Christmas Favourites playlist.
Advertisements
Christmas Pop
If you only live for pop music, you must absolutely listen to this playlist. This playlist features all the great names in pop music (including Justin Bieber, Britney Spears, Ariana Grande and Sia) and invites you to discover the latest chart-topping Christmas songs. Feel free to put this playlist on at your office party: It will be a guaranteed success!
Advertisements
Christmas Party
What better way to make people want to dance than with songs from Ariana Grande, the Jackson 5, Run-D.M.C. and Destiny's Child? These are some of the artists you will find on the festive and rhythmic Christmas Party playlist. Open your sparkling wine with your friends and family and you'll be ready to party all night long!
Christmas Jazz
Jazz lovers will be delighted with this playlist. You will find several Christmas classics where trumpets, saxophones and pianos are all trying to steal the show. Of course, Tony Bennett, Frank Sinatra and Ella Fitzgerald are among the artists on Christmas Jazz. This reading list is perfect for evenings when Mother Nature sends a chill to the neighbourhood and when you decide to enjoy an excellent bottle of red wine with your loved one.
Rock Christmas
Just because you like rock music doesn't mean you can't listen to Christmas music! Some rock artists have decided to let themselves be seduced by the magic of the holidays and to record songs specific to this time of year. On the Rock Christmas playlist, you can listen to Christmas songs from several of your favourite artists, including Jimmy Eat World, Fall Out Boy and NOFX. Let's bet your holiday season has never been so rock'n' roll!
Indie Christmas
Another playlist to discover if you like unconventional Christmas music is Indie Christmas. This playlist, followed by more than 65,000 Spotify subscribers, will give you the opportunity to listen to holiday hits performed by several independent/emerging artists (Sufjan Stevens, Fleet Foxes, Bahamas, She & Him), but also to hear original compositions. We suggest that you take the time to browse the titles on this playlist and let yourself be carried away by these sublime songs.
Christmas Magic
Christmas magic includes a wide variety of songs perfect for the holiday season. You will find both English and French songs, something to please all family members!
Hip Hop Christmas
If you have an aversion to indie music, rock or pop, don't be afraid. You can listen to your favourite hip-hop artists on Hip Hop Christmas! Indeed, this original playlist invites you to hear Chris Brown, Snoop Dogg, Ying Yang Twins and several other artists rapping about Christmas.
Retro Holiday
Are you a fan of everything retro? Why not match your music to your look or vintage decorations by choosing the Retro Holiday playlist? You will discover beautiful gems, including Bob Dylan's Christmas Island and B.B. King's Please Come Home For Christmas.
In case you're tired of playlists, you can always listen to She & Him's excellent Christmas album, Christmas Party (2016) or relive Frank Sinatra's holiday hits by enjoying his Ultimate Christmas album (2017). All in all, you have many options for your holiday celebrations!
---
Cover photo: @urbanoutfitters | Instagram