Keto breakfast: 17 low carb recipe ideas to break your fast
Bulletproof coffee is a treat, but these keto breakfasts will make you never want to skip the first meal of the day again, even if it happens after noon.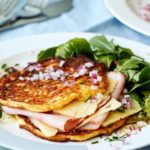 Once you cut out all heavy carb foods from your life, what used to be the simplest meal of the day can easily become the most complicated one. Your cupboard filled with sugary cereal now stocks ghee, butter, an array of oil and, sure, peanut butter, but no bread to spread it on. What you do have, however, is a selection of delicious high-fat ingredients that will make up the most delicious breakfast meal with a little imagination for whenever you get sick of the traditional bacon and eggs combo. If you already master the art of high fat snacking, treat yourself to keto dessert and know how to hit fast food joints without getting out of ketosis, but still struggle with brunch, worry no more. Whether your keto breakfast takes place the minute you wake up or your love of intermittent fasting sets your first meal of the day around 1 pm, these recipes will make you look forward to breaking your fast.
Advertisements
Bacon and Baked Egg Portobello Mushroom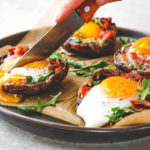 Alright, so this one still calls for eggs and bacon, after all, they are not a morning tradition for nothing. However, this Paleo Hacks recipe offers a fresh new take on the classic duo. These fun little portobello bakes are filled with bacon, tomato, arugula and ready in 35 minutes. Top them with some cheese for a nice fatty, crispy and stringy addition.
Advertisements
Cinnamon Toast Crunch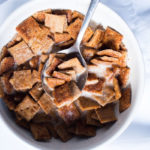 No, this is not a mistake. Yes, you can still enjoy your childhood favourite in all its glorious flavour. Thanks to Gnom-Gnom's genius recipe, you can break your fast with this cinnamon-y deliciousness without getting out of ketosis. This crunchy bowl of delight will make you wonder where all the carb and sugar have gone, yet not miss it one bit.
Advertisements
Croque Monsieur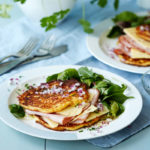 Part sandwich, part omelette, this Diet Doctor low carb concoction can be wrapped in wax paper and taken to your daughter's baseball game or plated with a nice side of oily greens and savoured with a fork and knife at the family table. No matter how you eat it, this version of the croque monsieur is quick to make, simple and delicious.
Advertisements
Chia Pudding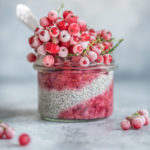 Hot summer day? When in need of something fresh and light, but also high in fat and low in carbs, try a delicious chia pudding. But according to Healthy Laura, this kind of both light and filling breakfast is also ideal for winter time. Just adjust your choice of berries in consequence.
Smoked Salmon Avocado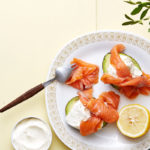 Oh so simple, yet so luxurious, this perfect breakfast paring from Diet Doctor will make you want to drink your bulletproof coffee with your pinky in the air. Rich, creamy, delightful, ready in seconds and undeniably low carb, is perfect for breakfast time, but it might very well become one of your go-to keto snacks.
Chocolate Muffins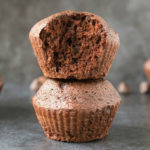 Let's be honest here, The Big Man's World's chocolate muffins could easily double as a perfect low carb dessert. And who doesn't like dessert for breakfast. Especially when it is healthy, flourless and vegan! Because yes, vegan keto is a thing and totally doable. But back to these muffins and how you could basically eat cake in the morning and remain in ketosis.
Breakfast Burrito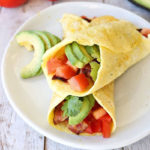 Break your fast with a little taste of Tex-Mex, the keto way. Extremely easy to make, tasty and perfect to bring on-the-go, Paleo Hacks' low carb take on the breakfast burrito just made your busy mornings that much easier and a whole lot less carb-y. Fill them with your favourite keto-friendly ingredients and don't forget the avocado and bacon for extra fat and flavours.
Blueberry Pancakes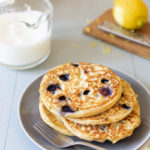 Sundays are not complete without a generous plate of pancakes. In ketosis or not, make the most of the last day of the week with Diet Doctor's thick and fluffy pancake recipe. And yes, they are perfect for brunch, but know that we also are fervent breakfast-for-dinner supporters and think these low carb pancakes would make a sublime supper.
Sausage Breakfast Sandwich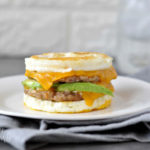 Forget about Mac-somethings. Peace Love and Low Carb's sausage breakfast sandwich is the best fast food breakfast sandwich even though it's actually homemade and healthy. Eat it with your hands for the full experience. You can even lick your fingers, you're at home, after all.
Dairy-free Zucchini Grilled Cheese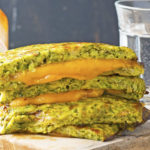 Lactose-intolerant, on the ketogenic diet and craving a grilled cheese? Don't start your day with deprivation. Paleo Hacks got you covered with this grilled zucchini sandwich oozing with cauliflower cheese. Dairy is your friend? Then wiping up The Iron You's zucchini crust grilled cheese recipe will be even easier to make and most likely gooey-er to savour.
Crispy Rutabaga Fritters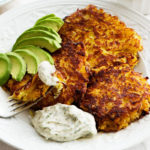 Pick up some rutabaga next time you visit the supermarket and treat yourself to this well-thought version of crispy fritters that will make you forget about potatoes. Pair this recipe from Diet Doctor with ranch or dill mayonnaise and, of course, avocados for a starchier alternative to zucchini fritters.
Bagels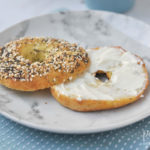 Thought you'd have to say adios to bagels forever when going keto? Think again. Peace Love and Low Carb's recipe will bring a piece of lost happiness back into your life whenever you have 30 minutes to spend on breakfast. Pro-tip: bake a bunch and freeze them.
Crispy Cheddar Kimchi Omelette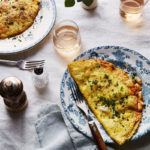 Get fancy with your otherwise boring omelette by adding some keto-friendly kimchi and making it extra crispy and cheesy. Food52's recipe will turn the simplest 6 ingredients meal into a silverware-worthy breakfast ready in minutes.
Biscuit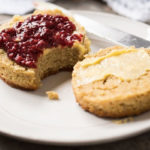 When feeling nostalgic and in need of something comforting and simple to accompany your bulletproof coffee, try this keto-friendly version of flaky English biscuits. Bring back memories of lazy morning breakfasts in good company with Gnom-Gnom's recipe and don't feel like you have to go easy on the butter.
Eggs Benedict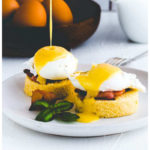 Forget about bad filter coffee and never-ending waits for a plate of eggs-hold-the-toasts. Instead, stay home next Sunday, and cook yourself the ultimate keto eggs benedict. Use Fat For Weight Loss' recipe for extremely low carb toast ready in an instant and skip smoked salmon and ham in favour of bacon, just because.
Peanut Butter Noatmeal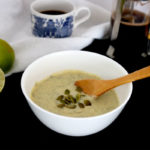 See what we did there? Actually, it's not our doing, but rather Meat Free Keto's who came up with this delicious oat-free and low carb version of oatmeal as well as its clever name. This warm, filling, quick and tasty high-fat breakfast bowl might become a week morning staple. Vary toppings and never get bored. Try a keto maple-cinnamon version or a coconut-lime one, for example.
Sausage Breakfast Casserole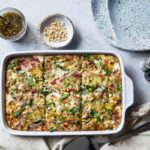 Food Faith Fitness's breakfast casserole is serious breakfast material. Packed with cheese, pesto and sausage, this high-fat and low carb dish is perfect to host a brunch or take to an early potluck. Full of flavours, it will impress your guest and allow you to remain in ketosis.
From sweet, fluffy, dough-y, almost-dessert dishes to savoury brunch-worthy meals and perfect on-the-go fast-breaking snacky recipes, these perfect keto breakfast ideas will inspire you to ditch your boring morning bites and break your fast in the best way possible.