Vegan keto breakfast ideas for egg-free mornings
These vegan keto breakfast ideas might be the ultimate motivation to get out of bed in the morning.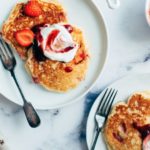 Adding variety into your low carb plant-based lunches and dinners can be quite easy. But when it comes to the first meal of the day, this whole high fat thing can get tricky. Unless you are one to be satisfied with avocado sprinkled with hemp seeds and perhaps drizzled with hot sauce day in day out, you might need some inspiration to start looking forward again to breaking your fast. Turns out, eggs and dairy are not essential to a delicious low carb morning meal. Here are 20 finger licking good vegan keto breakfast ideas to kick off the day with some serious flavor.
Advertisements
Chocolate Cereal
For all the cereal lovers who thought they had to say goodbye forever. Make a big batch, top with nut milk and enjoy Monday through Sunday if you are a true cereal addict.
Advertisements
Bircher
Fresh, crunchy, colorful, creamy, filling, sugar-free and totally adaptable, bircher makes a perfect summer breakie you will still be making in winter.
Advertisements
Hazelnut Spread
This is basically Nutella, except better. It's not actually a dish, we know, but we had to include it anyway. You are welcome.
Advertisements
Grain-free Oatmeal
Oatmeal is comfort in a bowl. And while its vegan keto version does not actually contain oats, it is just as tasty, filling and warming, if not more.
Tofu Scramble
Your egg-free breakfasts does not have to be scramble-free. This tofu scramble recipe will hit the spot every time.
Creamy Cocoa Coconut Shake
Eating keto means the creamiest smoothies and shakes of all. This is decadent nutrition to take on the go.
Carrot Muffins
Basically socially acceptable carrot cake for breakfast.
Stuffed Avocado
What's a vegan keto meal without avocado.
Chia pudding
Part dessert, part source of omega 3.
Cinnamon Toast
We swear it won't kick you out of ketosis.
Donuts
Yes, this too is keto.
Omelet
No eggs here. Not even soy. This is lupine flour and it only contains 3g of carbs and so much more protein.
Waffles
For a perfect Sunday brunch.
Smoothie Bowl
So simple, yet so fresh, delicious and nutritious.
Hazelnut bread + coconut butter and strawberry-chia jam
We'll let the photo do the talking for this one.
Pancakes
No one can say vegan keto breakfast ideas are limited after this one.
Yogurt + granola
For those who like a light meal to start the day, but still want to enjoy themselves.
Zucchini fritters
For all the savory breakfast fans.
Blueberry muffins
These fluffy blueberry muffins are great in the morning but also make perfect snacks to take on the go.
Smokey roasted Mushrooms + Tahini sauce
For when you are feeling fancy first thing in the morning.
Whether you are a sweet or savory in the morning kind of person, it is possible to feast on some delicious low carb plant-based food the minute you get up. Thanks to these impressive recipes, you can now enjoy your bulletproof coffee along with a delicious and filling meal. Vegan keto breakfasts no longer have to be boring nor repetitive, ever.