Relaxation podcasts that will help you sleep like a baby
Clear your mind, get a night of restful sleep and de-stress with these six relaxation podcasts.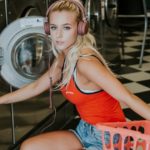 Falling asleep can be difficult if your mind is racing at full speed. Work, family, friends, relationships, it's exasperating trying to balance it all and often, it's at night that your mind seems to wake up and think of everything other than sleeping. If you've tried breathing techniques, yoga, relaxing music or even hypnotherapy and nothing works, relaxation podcasts could be the answer to your stress and anxiety woes. The six podcasts below are calming, meditative and are all free!
Advertisements
Soul Music
Music lovers will enjoy listening to this podcast that examines one particular song per episode that had a powerful emotional impact on society. Musical hits like Shine on You Crazy Diamond by Pink Floyd, True Colors by Cyndi Lauper, Boys Don't Cry by The Cure and Mack The Knife by The Threepenny are presented.
Advertisements
On Being
Krista Tippett examines what it's like to be human and other questions related to human life. Personal stress can often take over our mind and make us forget the bigger picture but the On Being podcast has the ability to ground you and pursue deeper thinking. Bonus: The host's voice is incredibly soothing.
Advertisements
Modern Love
If you read the New York Times column of the same name, then you'll enjoy the subjects explored on this podcast. Modern Love obviously discusses topics related to love like the ever so complicated human relationships and their ups and downs. The heartfelt stories are easy to relate to and will hopefully make you feel more relaxed.
Advertisements
The New Yorker Fiction
Loved bedtime stories when you were younger? Relax and enjoy some downtime with the New Yorker's Fiction podcast. Celebrated authors read the magazines archived stories out loud and discuss them with the podcast's host, fiction editor Deborah Treisman.
Sleep with me
Another type of bedtime story podcast, Sleep With Me is perfect for those who need help falling asleep. Remember your boring teacher in high school that had a monotonous voice and practically made you fall asleep every class? The narrator will transport you back to that classroom but this time, you can actually fall asleep guilt-free.
Meditation Minis
Meditation is a great way to decompress, especially if you're dealing with a lot of stress and anxiety in your everyday life. The Meditation Minis podcast only last around 10 minutes but they are packed with exercises to help you sleep and have happy dreams.
Relaxation podcasts can have a positive impact on your mood and even your health. Listening to beautifully written fictional stories, transportive music you love or real-life stories you can relate to is an excellent way to rest your mind, even if it's just for a few minutes. On your morning bus ride or in your bed at the end of the day, these relaxing podcasts will clear your head and bring some joy to your life.
---
Cover photo: averie woodard | Unsplash