Best places to travel solo: 10 incredible worldwide destinations
Travelling alone is a source of discovery and rejuvenation. Here are some of the best places to travel solo if you ever want to try the experience.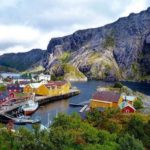 Travelling alone can be a source of discomfort and anxiety, but it also allows you to recharge your batteries and grow as an individual. Indeed, anyone who has already travelled solo will testify to the fact that their journey has allowed them to discover more about themselves. Going to explore a new destination alone is therefore difficult, but it is very beneficial. To try the experience without too many challenges, discover 10 of the best places to travel solo with complete peace of mind.
Advertisements
New Zealand
New Zealand is a great destination if you want to travel alone. This country, which offers you an eclectic and captivating landscape, is full of activities to do. You can visit vineyards, discover the impressive caves of Waitomo Glowworm or go on the Milford Track, a 53 km trail. One thing is certain, you will meet many friendly and hospitable people on your trip to New Zealand.
Advertisements
Norway
Norway is the ideal place to recharge your batteries while observing the Northern Lights. You can fill your eyes with the beauty of the country's landscape on board a ferry and discover the Geirangerfjord, which is 20 km long. You can also walk to the top of Preikestolen, also known as the Chair Rock, which is 600 metres high and overlooks the Lysefjord. There is no risk in going to this place alone; every year, tons of tourists go there! You will, therefore, encounter some during your hike.
Advertisements
Switzerland
Switzerland is an extremely popular country not only for its chocolate but also for its breathtaking panorama! It is not too difficult to travel alone, especially if you have a "Swiss Rail Pass", a pass allowing you to travel by train, tram or boat. You can visit several places during your stay, depending on your budget. You can start by stopping in Bern, the capital of Switzerland. Then you can visit Zurich and its many galleries and concert halls. If you are a winter sports enthusiast, you must absolutely visit Zermatt. You will find the highest ski area in the Alps!
Advertisements
England
Another one of the best places to travel solo without any worries is England. We suggest you go to London, the country's capital. There are several interesting things to do there, such as going to see Buckingham Palace, going to one of the many English pubs and shopping in markets like the Portobello Road Market. London will allow you to discover English culture in complete peace of mind, especially if you are fluent in English.
Spain
Spain is a beautiful place to discover on your own. This country has a culture and history that will keep you busy during your stay. Whether you like to visit museums or admire the architecture of historic buildings, you will undoubtedly be delighted. You can visit Barcelona and discover Casa Batlló, an architectural work by Antoni Gaudi. Spanish cuisine alone is also worth a visit with its tapas and paellas.
Australia
Australia is the ideal destination for fans of surfing and diving. So if you are an adventurous traveller, you will probably like this country that invites you to explore hiking trails and swim in the ocean. You will undoubtedly meet other travellers on your way with whom to see the Great Barrier Reef or explore Kangaroo Island.
Italy
If you have always wanted to travel to Italy, you can do it alone without fear. This travel destination gives you the opportunity to experience not only its incredible culture but also its gastronomy. Indeed, Italy also means good wine and tasty restaurants. Once your stomach is full, you can go for a walk in Rome to admire the Colosseum and the Pantheon. You also have the opportunity to go to Florence to visit the many museums there or to go to Venice to admire the gondolas. Perhaps you will find love there, you never know!
Costa Rica
Costa Rica, like Australia, is a popular destination for surfers. Another water activity to be enjoyed in this country is rafting. You can do it on the choppy waters of the Reventazón or Pacuare rivers. If you want to relax, you can always go swimming in the hot springs of Tabacón or cool off in one of the many waterfalls that the country has to offer.
Vietnam
For a change of scenery while travelling safely, Vietnam is a perfect destination. You can practice Tai Chi while gazing at the landscape composed of mountains and vegetation. You can also visit Hoi An, a small and colourful city that is part of the UNESCO World Heritage Centre, on foot or by bike. Another place to discover in Vietnam: Can Tho. You can easily cross this city in a boat as it is located directly in the Mekong Delta.
Chile
You can also add Chile to your bucket list. This country is known for the human warmth of its people and its landscape of deserts, forests and fjords. Santiago is obviously a must-see with its museums and countless restaurants. If you want to immerse yourself in the culture of this country while seeing breathtaking landscapes, Valparaiso is the perfect place for you. It is a splendid city located on the seaside. You can also visit the former residence of the writer Pablo Neruda.
There are of course many other places that could be included on the list of the best places to travel solo in complete safety. For example, you can go to Thailand, Germany, France or the Netherlands. The important thing when you go solo is to be well prepared! If you are a woman and you are worried about travelling alone, here are some other destinations to discover.
---
Cover photo: Instagram @terresdaventure photo by Jean-François Haize