Hassle-free keto bread recipe
Enjoy toasts that won't kick you out of ketosis with this no-knead keto bread recipe.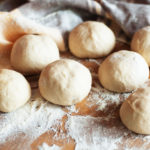 Sometimes, lettuce wraps just won't do. And for all those fat adapted dieters, making a sandwich isn't as simple as hitting the grocery store and pilling up deli meat. Unless you live in a large city where keto treasures such as high fat store-bought snacks and low carb fast food options are readily available, you will have to bake your own loaf. If you don't have the patience of a baker nor the skills to cook an egg, don't despair. Buttery toasts and fatty sandwiches are just a matter of minutes thanks to this Diet Doctor's extremely easy and simple keto bread recipe.
Advertisements
Ingredients
5 tbsp ground psyllium husk powder
1¼ cup almond flour
2 tsp baking powder
1 tsp sea salt
1 cup boiling water
2 tsp apple cider vinegar
3 egg whites
2 tbsp sesame seeds for topping
Advertisements
Preparation
Preheat the oven to 350 °F. In a large bowl, mix dry ingredients, then incorporate vinegar and egg whites. Mix well before adding the boiling water with the help of a hand mixer. Make sure not to over mix the dough. Blend for about 30 seconds or until it reaches a Play-Doh-like consistency. Coat your hands with olive oil to separate dough into 6 rolls and top with sesame seeds if desired. Bake on greased baking sheet on the lower oven rack for 50–60 minutes. Let cool.
With only 2 g of net carbs and 
170 calories per bun, these mini loafs ready in minutes will be the low carb cherry on your fatty sundae. Make burgers and sandwiches and enjoy them for breakfast or as the perfect side to a summer-y salad or a decadent bowl of keto fettuccine Alfredo.
---
Cover credit: ch_ch | Bigstock