21 ultimate summer low-carb salads for your keto diet
Eat light and high fat during the hottest days of the year with these delicious summer low-carb salads for your keto diet.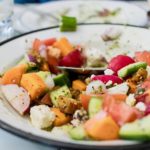 Who said salads had to be dull or repetitive or carb heavy? The ultimate hot summer meal can easily be adapted to a high-fat lifestyle, and by that, we don't mean two lettuce leaves, three branches of celery, some mushrooms, a ton of olives and even more olive oil (but if that floats your boat…). So whenever you don't feel like firing up the grill or can't envision spending the afternoon in the kitchen frying up some deliciousness without dying of heat exhaustion, whip up on of these salad recipes. Suited for your keto lifestyle, fresh and delicious, it is the ultimate summer quick fix that won't kick you out of ketosis for breakfast, lunch and dinner. And since not all veggies are created equal, pick yours wisely with these far-from-boring delicious summer low-carb salads for your keto diet.
Advertisements
Best Keto Cabbage Salad
The perfect new and improved take on a summer classic.
Advertisements
Antipasto Salad
Basically an Italian sub in salad form.
Advertisements
Shrimp, Asparagus and Avocado Salad
If summertime was a salad.
Advertisements
Superfood Salad
Health never tasted so good.
Mediterranean Broccoli Salad
Lots of crunch and even more flavour.
Asparagus Salad With Eggs and Prosciutto
Salad for breakfast never sounded so good.
Thai Chicken Crunch Bowl Salad
A little exotic, a lot tasty.
Brussels Sprouts Caesar Salad
Just give it a shot.
Chopped Greek Salad
Sometimes, all you need is a keto-approved delicious old summer classic.
Instant Pot Avocado Egg Salad
You could eat it in lettuce boats, collard greens wraps, nori sheets or how we are planning on enjoying it: on its own.
Italian Hoagie Salad
Last minute-friendly but no less tasty.
Creamy Cucumber Salad
No lettuce no problem.
Tuna Salad
For when you are behind on your protein intake.
Cesar Salad
Yes, keto croutons are a thing!
BLT Salad
A childhood favourite minus the carbs.
Seasonal Salad with Feta and Roasted Pumpkin Seeds
For that fancy summertime lunch.
5-Ingredient Keto Salad
Classic keto made easy.
Pork Belly Wedge Salad With Blue Cheese Dressing
Who thought iceberg could sound so fancy.
Raw Zucchini Caponata
This might be the perfect picnic keto salad.
Cauliflower Rice Tabbouleh
Part Levantine, part keto.
Berrie Salad with Goat Cheese and Walnuts
Freshness in a bowl, the keto way.
Come summertime, forget about keto fast food – except perhaps a delicious made to order chipotle bowl – and other more winter appropriate heavy dishes such as fettuccine alfredo – except dessert, heavy dessert is acceptable all year long. Whether you are a bacon lover a plant-based high fat eater, keep it light and fresh with these delicious recipes of low-carb salads for your keto diet.