The 20 Funniest Moments From Every Season of Friends
1

Joey Tries (And Fails) to Learn French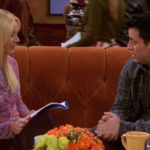 Advertisements
Joey is the resident idiot on Friends, but "The One Where Joey Speaks French" (season 10, episode 13) takes his cluelessness to a new level. After Joey says that he's fluent in French on his resume, he's offered a French-speaking role. Of course, he has no idea what to do, so Phoebe steps in as his tutor.
Try as she may, however, Phoebe can't get Joey to speak French. He can say each individual sound correctly, but when he tries to string them together it just comes out as gibberish. The random connection of sounds is truly hilarious, especially since Joey thinks he's actually saying everything right.
Advertisements
2

Ross Gets Attacked By a Cat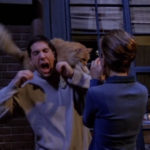 Advertisements
In "The One With the Blackout" (season 1, episode 7), Ross finally gets up the nerve to tell Rachel how he feels about her. Out on the balcony, he struggles to get the words out. Before he can make his confession, Rachel notices a cat lurking behind him. She's immediately distracted, but Ross doesn't see the animal.
Ross is soon made aware of the cat's presence, however, when it jumps on his back and starts attacking him. While the rest of the friends sing a song together in the apartment, Ross battles off the animal through the window. Poor Ross—things never seem to go quite right for him.
Advertisements
3

Phoebe Gives Monica a Bad Haircut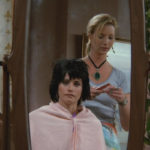 Advertisements
Sweet, kind Phoebe is also the friend who has the least idea of what's going on at any given time. In "The One With Ross's New Girlfriend" (season 2, episode 1), her clueless state creates some real problems for Monica.
When Monica asks for a haircut, Phoebe obliges on the condition that Monica won't be overly controlling. When the final cut is revealed, however, Monica finds out that Phoebe mimicked actor Dudley Moore's hairstyle rather than the requested look of Demi Moore. The damage is almost irreversible, and Phoebe's sudden realization of her mistake is cringe-worthy but simultaneously hilarious.
Advertisements
4

Chandler's Roommate Won't Leave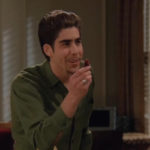 Advertisements
While Ross and Rachel are the show's couple goals, the real swoon-worthy relationship from Friends is Joey and Chandler. This bromance, however, is slightly interrupted in "The One Where Eddie Won't Go" (season 2, episode 19).
Reeling from his success on Days of Our Lives, Joey decides to move out of his shared apartment with Chandler. Chandler's new roommate, Eddie, initially seems like a good addition to the space. However, Eddie soon turns creepy. As much as Chandler tries to kick him out, Eddie won't leave. In fact, he seems to forget that they even have the conversation. Eddie's lack of self-awareness paired with Chandler's growing frustration is truly hilarious.
Advertisements
5

Joey Impersonates Chandler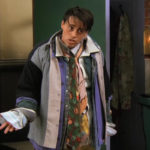 Advertisements
The beginning of season three blesses us with "The One Where No One's Ready" (season 3, episode 2), one of the best episodes in the history of Friends. While Ross is taking all his friends to an event at his museum, everyone refuses to get ready in time.
There are plenty of funny moments in this episode, but the best interactions take place between Chandler and Joey. What starts a fight over a chair quickly turns into a series of personal attacks as the friends grow increasingly frustrated with one another. The argument culminates in Joey putting on all of Chandler's clothes and stepping into the apartment where he does his best impersonation of his BFF. No matter how many funny moments this series throws at us, we'll never get over that scene.
Advertisements
6

Ben Stiller Screams at Everyone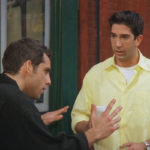 Advertisements
Along with the many engaging episodes, Friends is also known for its wide array of guest stars. In "The One With the Screamer" (season 3, episode 22), Ben Stiller steps in as a new man Rachel is dating, Tommy. Although Rachel likes him well enough, Tommy has a few issues with anger management.
Throughout the episode, Rachel's new beau continues to overreact to simple situations, such as an older couple sitting in his seats at the theater. The constant screaming followed by a completely calm demeanor is hilarious, especially since it makes the surrounding characters so uncomfortable.
Advertisements
7

Ross Insists They Were on a Break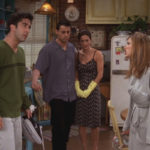 Advertisements
Over the course of Friends, Ross continues to assert time and time again that he didn't cheat on Rachel when he slept with the girl from the copy place. Instead, he was completely in the right because he and Rachel were on a break. While many of these moments are sad, "The One With the Jellyfish" (season 4, episode 1) inserts a little humor into this tired assertion.
After Ross falls asleep while reading Rachel's 18-page letter, he later finds out that she will only get back together with him if he states that everything is his fault. Ross isn't happy with that. Rather than settling in with his love, he restarts the same old argument and continues to insist that he was in the right. It's so utterly ridiculous, but you can't help but laugh as you watch these characters go at it once again.
Advertisements
8

Chandler Moves to Yemen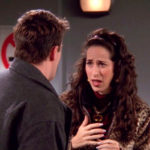 Advertisements
Janice, Chandler's on-and-off girlfriend, pops up time and time again throughout all of Friends. Just when you think you've escaped her, she's right there, laughing in that annoying way of hers. While Chandler is sometimes totally on board with their relationship, that's not the case in "The One With All the Rugby" (season 4, episode 15).
Rather than staying with Janice or breaking up with her, Chandler tells her that he's moving to Yemen. What he doesn't realize, however, is that she's going to follow him all the way to the airport. He tries to sneak off the plane, but he can't manage it. Janice continues to catch him, and he's eventually forced to board the aircraft and take off as she watches from the terminal.
Advertisements
9

Monica Has a Turkey Head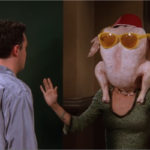 Advertisements
While a lot of the humor in Friends is clever, some moments are hilarious because they're just plain dumb. That's certainly the case in "The One With All The Thanksgivings" (season 5, episode 8). When the gang recounts their past Thanksgivings, Chandler learns that he lost his toe on a previous holiday when Monica tried to get back at him for calling her fat.
To stop Chandler from being angry at her, Monica puts a turkey on her head, complete with a hat and glasses, and dances into Chandler's apartment to cheer him up. It's silly humor, but it certainly makes for a pretty funny visual.
Advertisements
10

Ross Freaks Out Over a Sandwich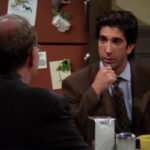 Advertisements
After Ross's marriage to Emily falls apart, he displays his sadness in some strange ways. In "The One With Ross' Sandwich" (season 5, episode 9), Ross becomes obsessed with his Thanksgiving leftover sandwich, which one of his colleagues unfortunately eats.
The action causes Ross to stomp around his office yelling at everyone. When his boss comes in to confront him, Ross learns that he was the one who ate the sandwich. Instead of shrugging it off and moving forward, Ross nearly bursts into tears and screams at his superior. It's a little sad, but it's also so darn funny.
Advertisements
11

Phoebe Finds Out About Chandler and Monica's Relationship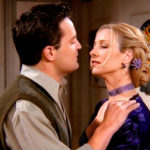 Advertisements
In "The One Where Everyone Finds Out" (season 5, episode 14), Phoebe finally clues into the fact that Chandler and Monica are together. Upset that her friends kept it a secret, Phoebe decides to flirt with Chandler to prompt him and Monica to be honest about their relationship. Monica, however, catches on to what her friends are doing and tells Chandler that they can't give in to their bullying.
The resulting scene shows Phoebe and Chandler desperately flirting with one another, although neither of them wants something to happen. It's a game, and Chandler is finally the one who breaks. Before he calls it off and admits that he's in love with Monica, however, we get a lovely scene of some awkward flirting between these BFFs.
Advertisements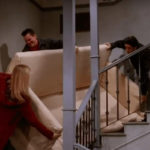 Advertisements
Who could ever forget this iconic moment? When Ross buys a new couch in "The One With the Cop (season 5, episode 16), he asks his friends to help him move it into his apartment. Unfortunately, the staircase is a little too narrow for the wide couch.
As Ross tries to direct his friends up the stairs, he continually screams "Pivot! Pivot! Pivot!" much to the annoyance of both Rachel and Chandler. While the screams have a lot of heart behind them, they don't actually help the characters to get up the steps. The entire scene is a relatable disaster, which is probably why it's so popular.
Advertisements
13

Ross's Parents Find Out He Smoked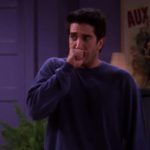 Advertisements
In "The One Where Ross Got High" (season 6, episode 9), Monica decides she needs to inform her parents of some of Ross's more illicit activities. She starts by telling them he smoked illicit product in college and blamed it on Chandler, which then prompts Ross to tell a few of Monica's secrets, most notably that she's living with Chandler.
While Ross and Monica's mother laughs off most of their confessions, she clings to the fact that Ross did smoked in the past and got yet another divorce, this time with Rachel. Everyone gets let off the hook except Ross, which is precisely what makes this scene so funny.
Advertisements
14

Ross Talks About Unagi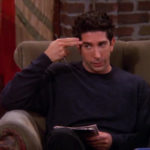 Advertisements
In "The One With Unagi" (season 6, episode 15), Phoebe and Rachel decide to take a self-defense class. In just a few short sessions, they become a little overconfident in their abilities. Their bragging about their newfound skills is overshadowed, however, when Ross insists that he's more experienced than they are.
Ross explains that he has Unagi, a state of total awareness that makes self-defense truly effective. Unfortunately for Ross, Unagi is a type of sushi. But his commitment to explaining this important aspect of karate is wonderfully hilarious.
Advertisements
15

Ross Dresses Up As the Holiday Armadillo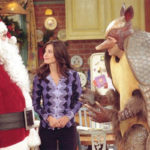 Advertisements
When Ross's son Ben spends Christmas with his father, Ross is desperate to teach him about Jewish traditions. In "The One With the Holiday Armadillo" (season 7, episode 10), Ross learns that Susan often dresses up as Santa Claus. Not to be outdone by his ex-wife's new partner, Ross decides to toss on a Holiday Armadillo costume to convince Ben that Jewish holidays are just as fun.
Of course, the Holiday Armadillo doesn't quite have the effect that Ross was hoping for. Ben is still much more interested in Santa Claus, which basically results in Ross bouncing around in a funny costume for most of the episode. Even if Ben isn't on board, we have a special place in our hearts for the Holiday Armadillo.
Advertisements
16

Brad Pitt Is Stuck in High School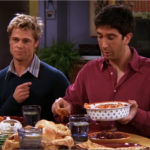 Advertisements
Another beloved cameo, Brad Pitt makes his appearance as Will—a former classmate of Rachel, Ross, and Monica—in "The One With the Rumor" (season 8, episode 9). While he's good-looking and successful now, he can't get over his high school hatred of Rachel Green.
Throughout the course of his dinner at Monica's apartment, Will continues to lash out at Rachel. Eventually, he confesses to founding the "I Hate Rachel Green" club in high school alongside Ross. The scene is especially funny when you consider that Brad and Jennifer were deeply in love at this point, so their on-screen hatred was entirely for the benefit of the show.
Advertisements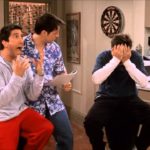 Advertisements
Joey had plenty of funny moments that punctuated his acting career throughout the course of Friends, but the one that made us laugh the most was probably his audition for the host of a game show. In "The One With the Baby Shower" (season 8, episode 20), Joey recruits Ross and Chandler to act as his fake contestants so he can understand the rules of the game show, Bamboozled. 
However, things don't go quite as planned. As Joey reads from the script, it quickly becomes clear that the rules of the game are entirely nonsensical. The only one who seems to get it is Ross. While he's playing all out, Chandler is confused the entire time. The entire interaction never fails to have us laughing out loud. 
Advertisements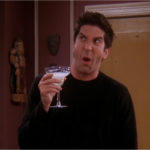 Advertisements
Ross has quite a few laugh-out-loud lines in Friends, but "The One Where Ross Is Fine" (season 10, episode 2) contains far too many clever quips to count. In this episode, Ross finds out that Joey and Rachel are dating and, in an effort to prove that he's totally fine, he invites them over for dinner.
Since Ross is very obviously not fine, he gets rip-roaring drunk. After screaming about his fajitas, Ross gives a truly hilarious speech about love. The entire episode will have you rolling on the floor with laughter. Once again, everything having to do with Ross is a little sad, but it's also pretty hilarious.
Advertisements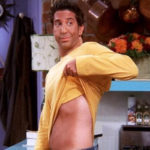 Advertisements
Many of the truly funny moments in Friends come at the expense of Ross, and "The One With Ross' Tan" (season 10, episode 3) is no different. In this episode, Ross decides to get a spray tan, but he can't perfect the process. Instead of turning when he's supposed to and getting a nice golden glow, Ross sprays his front twice, leaving his back white.
To correct the problem, he goes in again, but he messes up and manages to spray his front even more. By the time he's finally done, he's incredibly dark on the front and completely tan-less on the back. It's just another case of Ross messing up, which results in plenty of laughs for us.
Advertisements
20

Danny DeVito Is a Stripper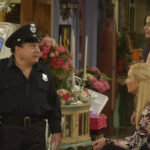 Advertisements
"The One Where the Stripper Cries" (season 10, episode 11) welcomes Danny DeVito to the Friends cast. DeVito is Officer Goodbody, a stripper hired for Phoebe's bridal shower. Unfortunately, he's not quite what the women are expecting.
When Monica and Rachel open the door, Officer Goodbody is already worn out and panting simply from walking up the stairs. When Phoebe then refuses his performance, he grows increasingly frustrated before bursting into tears. Couldn't Phoebe have taken one for the team? Did she really have to make Danny DeVito cry?
---
Cover photo credit: NBC
Advertisements